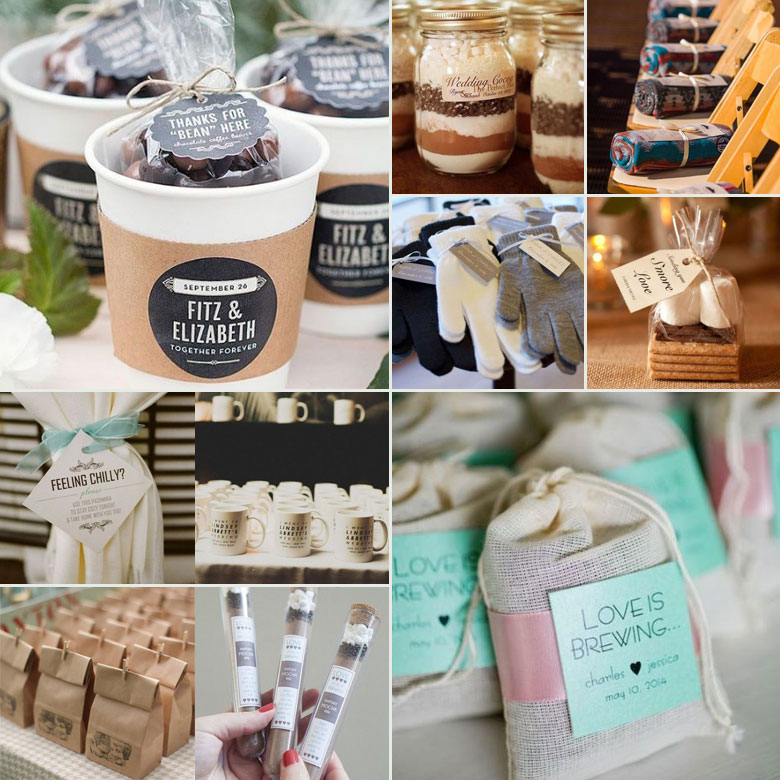 Never has a guest favour held more importance, than at a winter wedding!
When the weather is gloomy, the moods can spiral out of control and before you know it, you've got a bunch of unhappy guests on your hands. The guest favours are therefore the ideal pick-me-ups to ensure that your guests are happy, clappy and all smiles the whole day.
Here are some practical favour options, ideal for a wintry day:
Fleece blankets are perfect, and will keep guests warm at all times.
Who doesn't love hot chocolate? Wrap up hot-chocolate-on-a-stick for guests to stir into warm milk
Personalise coffee mugs with either the guest's name printed on it or the date of your wedding.
Make a soup jar, filled with fresh ingredients and instructions on the label.
Alternatively, a jar of cookie or muffin mix will do the trick.
Fill a little box with various sachets of coffee and hot chocolate.
Keep their hands warm with snuggly gloves.
Fill small bags filled with tiny biscuits and marshmallows for smores.
Nothing says winter like gingerbread men and homemade snow globes
Warm the limbs with a tiny bottle of alcohol like brandy or sherry.
Original images and credits available on Pinterest