Outdoor Wedding Decor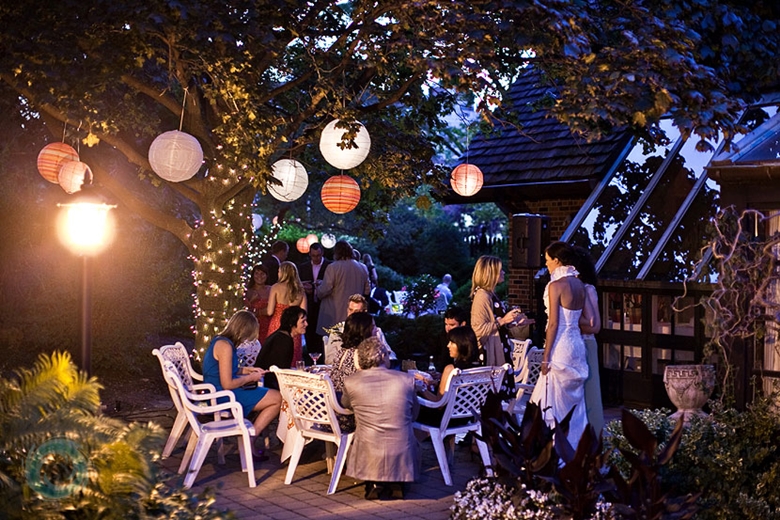 Living in a country as naturally beautiful as South Africa gives couples the prime opportunity to take advantage of the stunning outdoors by having their wedding outside. Whether this is in a garden, vineyard, forest or beach setting, the outdoors brings with them a natural quality of magnificence. While this adds an entirely new dimension to your décor, it does not mean that style and elegance need to be negotiated upon.
Simply having your wedding ceremony or reception (or both) outdoors does not mean that no added décor is necessary. If fact, outdoor venues allow great freedom and flexibility when choosing colours and decorations as there are no walls, stairs or plugs in your way. Be creative and let your décor work with the surrounds instead of trying to overpower them. The following ideas are designed only to get your personal creativity inspired. Be sure to add to them and make them your own:
Lighting
Lighting is a very necessary part of an outdoor venue for safety reasons as well as to set the right ambience. Use lanterns, hurricane lamps or fairy lights for a charming and romantic look and feel to your wedding day. String the lights in the branches of the trees, line pathways with them and dot them around the dance floor and on tables. For a more rustic look, pierce tin cans and put a candle inside so that the light shines through the holes.
Flowers
A garden full of colourful blooms may set the scene sufficiently. However, if you need to add some colour and natural beauty, use bouquets, flower beds, potted plants or small potted trees. Their natural growth implies the success and growth of you new life together while the colours can be used to brighten your venue or introduce the theme colours of your big day.
Water
If your wedding venue has water features, such as fish ponds, fountains or a swimming pool, you can use these effectively by adding flowers, petals or floating candles. For a more modern look, use lighting to illuminate or even colour the water.
An Arch or Trellis
A beautifully decorated structure can frame the bridal couple as they say their vows and slip their rings on, or it can be the impressive entryway into the reception venue, through which all wedding guests must pass. The arch or trellis can be embellished with balloons, flowers, fairy lights, ivy vines or colourful ribbons. This will create a whimsical feature, adding to the natural surrounds. A well-qualified florist or someone that specialises in wedding décor should be able to suggest new ideas to you so that your arch reflects your personal tastes and wedding theme.
When decorating an outdoor venue, remember the following tips:
Ensure that candles are well protected from any breeze and are not too close to paper or fabric. The smallest gust could tip a candle over, with disastrous consequences.
Make sure that all elements of your décor are cemented firmly into the ground or on the tables. This may involve cunning methods of gluing or taping them down.
Photo Credit: bioarchitect.org