Flowers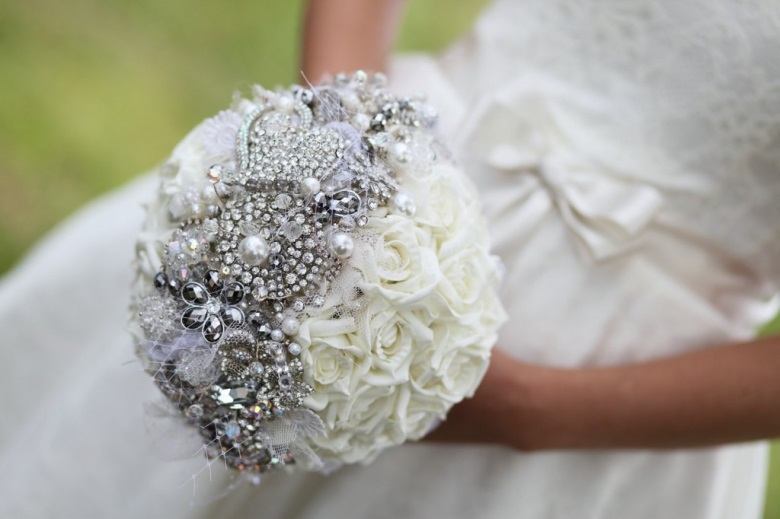 Flowers form an integral part of the wedding décor and overall theme. However, these need not always adhere to strict conventions laid out by decades of tradition. Consider replacing your tables' centrepieces with one of the following:
An arrangement of feathers, quills and dry twigs. This creates a contemporary look and feel, while focusing on the splendour of natural items. In addition, these items can be used on their own. A vase overflowing with the elegant softness of black and white feathers can, for example, create a spectacular centrepiece, sure to be a great conversation starter. The blues, greens and golds of peacock feathers introduces an entirely different dimension to the décor.
Succulents – these are easy to maintain, will not wilt during the ceremony or reception and are available in a number of colours and species to create a unique and intriguing arrangement. They are great for formal and informal daytime weddings and can be given to guests as gifts after the event.
Bonsais – these will be more expensive than many other options, but add an unmistakable sense of charm and elegance to the ambience. The bridal couple may keep and cultivate the bonsais after the wedding, or can choose to give them to select guests who share their interest in preserving the trees.
A group of dried twigs of different heights and thicknesses with fairy lights draped among them is romantic and definitely reminds one of fairytale love. The sticks can be painted white or silver to create a softer look. These can be in glass bottles (old milk bottles suit a country theme) or more formal vases.
A bowl of fruit is great for a summer or spring daytime wedding. It is colourful, refreshing and practical as the arrangement is edible! Pears, apples and grapes are sweet favourites that boast beautiful hues. Fruits such as mangos, peaches or litchis tend to be a bit messy and inappropriate.
The bride and bridal party's bouquets are also susceptible to becoming rather reliant upon tradition. Feathers, quills, sticks and even fruit can be used very effectively to create a memorable bouquet with a difference. For more traditional brides, having a single red rose in the middle of a bouquet of white roses creates quite a statement, as does carrying a single stem of your favourite bloom. While remaining tasteful and in line with your wedding theme is a must, there are no restrictions placed on what you can and cannot have, as long as it makes you feel beautiful and it makes your day as special as it should be.
Photo Credit: weddingseve.com