Welcome Drinks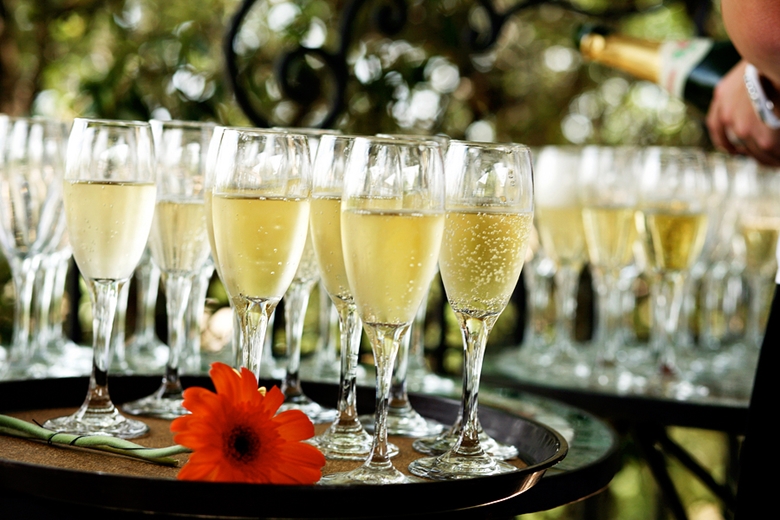 Guests usually enjoy the welcome drink while waiting for the bridal couple to return from their photograph session. This means that they are probably peckish and eager to get into the reception venue for the celebration. It is, therefore, wise to ensure that the welcome drinks are in a comfortable area that is not flooded in sunlight and that has adequate chairs available. Offering things like colourful ice lollies (possibly with alcoholic versions available too), jello shots (jelly made with vodka or rum), shooters or lavish cocktails will introduce a sense of fun and expectation for the group.
Some popular cocktails are:
Pina Coladas – rum, coconut cream and pineapple juice, very tropical
Margaritas – tequila, Triple Sec, lime or lemon juice and salt around the rim of the glass
Mai Tai – rum, Triple Sec, lime and Orgeat Syrup, garnished with mint and a maraschino cherry
Sangria – a punch of light, dry red wine, fruit pieces (apple, peach, etc...), lemonade or Sprite, sweet fruit juice and brandy
Long Island Iced Tea - vodka, gin, tequila, and rum with Coca-Cola and soda water or lemonade
Martini – gin, vermouth and an olive (perhaps better for an older crowd)
Pimm's Cup – Pimm's, lemonade, oranges, lemons, strawberry, cucumber and mint
For those who do not enjoy alcohol, or who are too young to indulge, have a range of "virgin" cocktails, such as strawberry juice on crushed ice or Rock Shandies (lemonade, soda water and bitters) available.
These will get the reception off to a jovial start and keep the guests entertained while the await the couple's arrival.

Photo Credit: www.weddingsatthelodge.co.uk