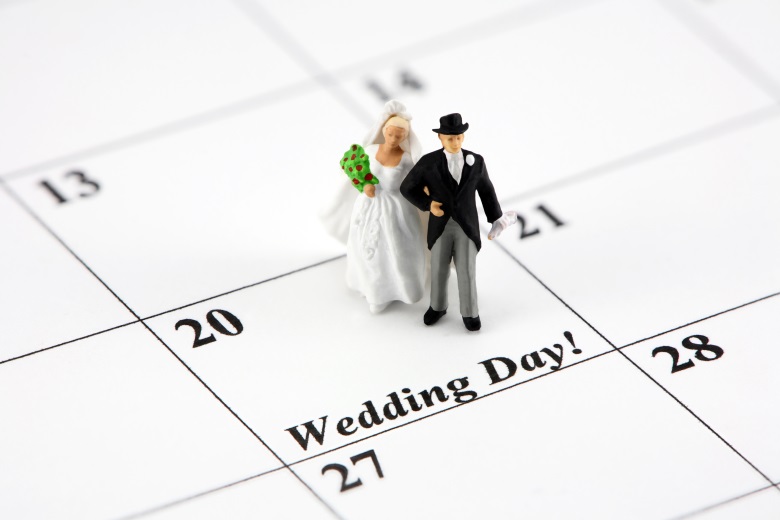 Choosing your wedding date is one of the very first steps in planning your wedding. It is often dependent on weather, venue availability and being able to take leave from work. Many brides have been disappointed by the weather or a major sports match that has distracted every male on her guest list, or has found out later that she chose an "unlucky" date on which to have her special day. Generally speaking, it is wise to avoid December, especially between Christmas and New Year as your guests are likely to have their leave at this time and want to travel or share these occasions with their family.
It will also be busy on the roads and difficult for people to arrange flights and so on. Unlucky dates include any weekend preceded by a "Friday the 13th", the 15th of March (the Ides of March) and the 11th of September. Should you be having your wedding in a place that implements daylight savings hours, be sure that both you and your guests are absolutely sure of the time of the ceremony and reception, as this can lead to confusion.
Jewish guests may find it difficult or inappropriate to attend a wedding on Friday evenings, during the days on Saturday, on Rosh Hashanah (usually in September), Yom Kippur (10 days after Rosh Hashanah) or the Days of Awe (the time between the two preceding observances). Muslim guests may want to avoid attending weddings during Muharram and Ramadan, which are sacred months. It is obviously not always possible to accommodate each and every potential guest. But, if you know that a large proportion of them subscribe to a faith that does not allow for celebrations on certain days for a variety of reasons, it makes sense to accommodate these ones.
There are certain advantages to scheduling your wedding to happen before or after a major sports game or tournament (such as Wimbledon or a rugby or football World Cup™) that people may have wanted to travel to your area to watch, as they can then combine your day with their match. This can only succeed if they are not on the same day, though. For example, Western Province fans may travel to Cape Town for a match at Newlands on the Friday night, and then enjoy the celebration of your union on the Saturday.
Ultimately, your wedding date depends on you and needs to suit you and those closest to you. There will always be guests that are not able to attend and those that make special efforts to do so. Keeping this in mind, setting a date is a very important part of the wedding planning process, but does not need to instill a sense of panic before you are even able to begin enjoying the adventure.
Photo Credit: www.planmydaynow.com