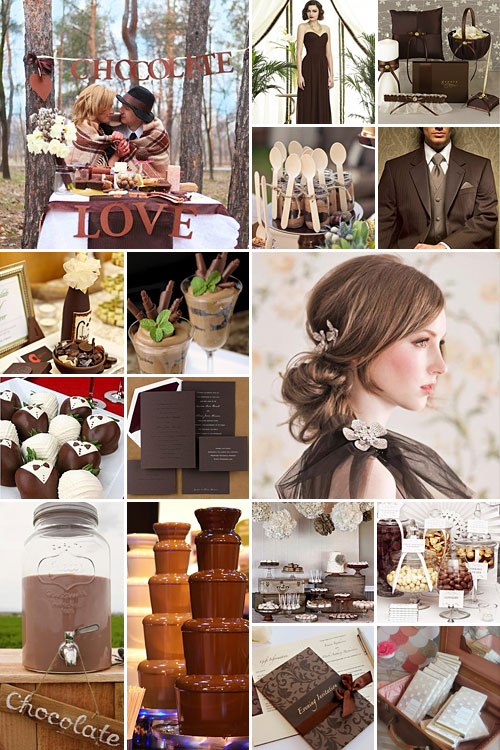 We all love chocolate and we all love weddings. Why not combine the two by having a chocolate themed wedding?
Your colours can include any cream, brown or derivative of coffee, cappuccino or coco. Combine chocolate brown with pink, turquoise or lime green to add some brightness to the theme. Accessorise by adding chocolate brown to your guest book and pen, your wedding ring pillow, the flower girl basket and, of course, your wedding stationery.
Chocolate brown flowers include the brown orchid, the chocolate brown calla lily, the chocolate orchid, Terra Nostra (the brown rose) and chocolate cosmos. Consider using twigs in your bouquets, posies and boutonnieres to add a splash of brown if you are not keen on using brown flowers.
When it comes to catering, a chocolate theme can be a lot of fun. Welcome your guests with chocolate martinis or milkshakes. Think chocolate desserts, such as chocolate mousse and eclairs. Feeling brave? Add some zing to your menu with a chocolate chilli dish. And of course, a chocolate wedding cake will round everything of perfectly. Entertain your guests with a chocolate fountain or fondue.
There are so many chocolate wedding favour options available, that we do not even know where to start! It can be anything from little choccies or nougat dipped in chocolate to decadent Belgian chocolates.
We recently came across Chocoholic Impact and they can create chocolate brooches. How extraordinary! Present this in a pretty little box and you're set!
Depending on your skin tone, make your wedding dress a shade of cream or ivory. Otherwise opt for a brown sash with a white dress. Adding brown to your garter can also work. Your groom can wear a brown suit, but if he wants something more subtle, let him wear a brown tie with a biscuit suit.
Original images and their credits available on Pinterest