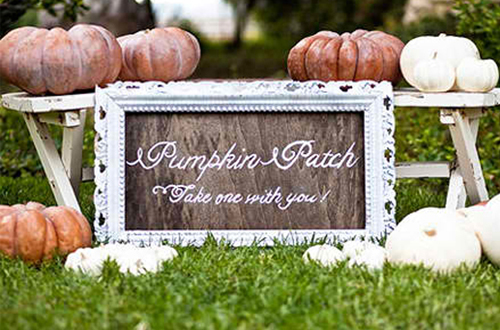 Pumpkins are one of the gourds; rich in colour and boasting a distinct identity in terms of country themes and even Halloween. Whether you choose this theme to introduce the vibrant shades or to create a quaint, homely feel, your wedding will be memorable and gorgeous, especially in the wedding photographs.
Here are some ideas to make your pumpkin-themed wedding unique and special:
Include the butter-yellow pumpkin flower in your bouquet and floral arrangements, along with yellow and orange roses. These flowers are large, reminding one of the sorts of blooms fairies would use to shelter themselves from the rain (giving your wedding a distinct fairytale feel).
Hollow whole pumpkins out and use them as vases for your floral arrangements in the centre of the tables.
Carve pumpkins with beautiful designs and insert lit candles into their hollowed centres for lanterns to light your dance floor, aisle or general venue area.
Scatter toasted pumpkin seeds onto the tables instead of confetti.
Dress the bridesmaids and groomsmen in dark, vibrant shades of pumpkin-orange.
Serve pumpkin pie for dessert.
Give guests a small packet of chocolate-coated (or carob-coated) pumpkin seeds as guest favours.
Enjoy the beautiful gallery below.
[flgallery id=69 /]
Image Courtesy of Chez Wedd