A Travel Theme: Your Journey Begins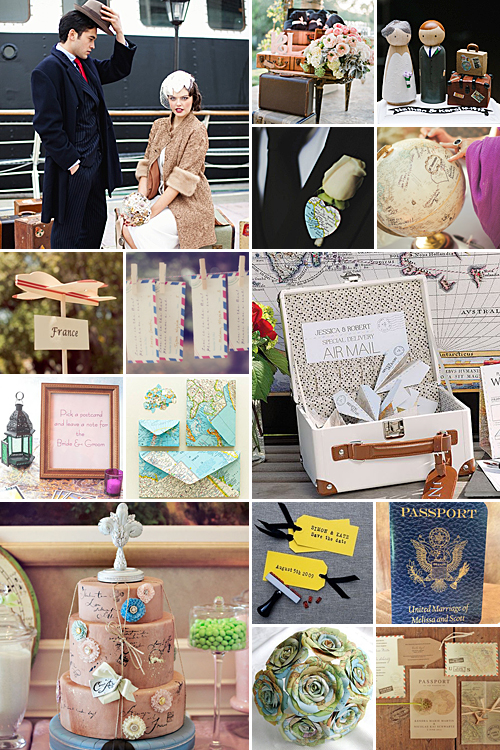 Wedding themes are meant to reflect your individual personalities and the nature of your relationship. Choosing a travel theme is most appropriate if you are a couple that loves visiting new and exciting places and are well travelled. It is also appropriate if, after your wedding, you plan to travel (whether for work or leisure). So, this is a very personal theme. It can be dedicated to travel in general, or on a specific destination, which is effective if it is where you met, where you plan to go or your new home in the case of relocation.
A travel theme is also great if you have managed to save up keepsakes, postcards and other memorabilia from past travels. Including these in your big day invites guests to be a very special part of your past experiences.
Implement your travel theme by including:
Air tickets – send mock air tickets as invitations to set the scene.
Postcards – these also make great invitations or can be used for the menus, guest favours, and so on.
Luggage tags – write the guests' names on these and tie them to the cutlery as your place name settings. Alternatively, use tags to write your 'thank you' message on and attach them to guest favours.
Atlas pages – using the pages of atlases for almost any of your wedding stationery is cute, novel and greenminded, since the paper is being upcycled. Create paper flowers for your bouquet, hearts that hang around your venue, or wrapping paper for the gifts.
Suitcases – old-fashioned cases are very trendy at the moment. Use them as props for your photographs, or open them for envelopes from friends and family members (if you expect to receive money as gifts). Alternatively, simply pile them on one another as fun décor elements around your reception venue.
Stamps – use stamps liberally in various areas of your décor and even your attire. Print stamps with personal photographs on or of places you've seen.
Passports - Have a look at these beautiful passport invitations from Secret Diary Designs.
Original images and their credits available on Pinterest