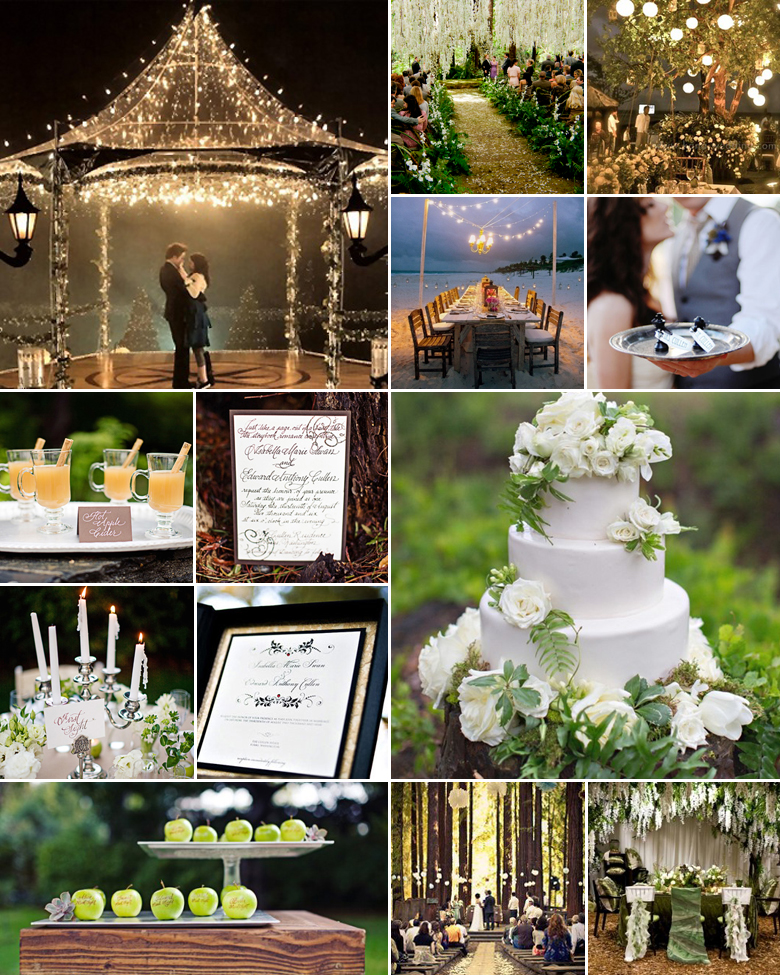 This has to be one of the most romantic stories of the decade. And with the latest movie from the Twilight-saga being released this year, we thought it would be appropriate to do a Twilight-inspired wedding theme.
Use a red, white & black colour theme. For a more antique feel, replace the white with cream. For décor – think crystals (Edward's heart), chess-pieces, black feathers, apples, dramatic drapes, chandeliers, fairy lights and lots of candles. You can even consider having a checkerboard dancefloor.
Have your wedding ceremony underneath a gazebo with lots of fairy lights. The bride can be dressed in antique lace and have a blue sapphire comb in her hair. An antique brooch can also add a nice touch. Tie a red ribbon around your bouquet.
Have your wedding photos taken in a meadow. Have a photo booth with vampire-themed props, such as fangs and dark capes. Use a silver Volvo as your wedding car.
Serve mushroom ravioli as a wedding dish. This was the dish Bella had on her first date with Edward. Otherwise go for Quesadillas. Bella made this in the one of the books. Fun dessert-ideas includes chocolate, cherries, strawberries and candy apples. If you're really feeling adventurous, have vampire-fang cupcakes. Drinks can include lots of red wine or punch. Apple cider is also a suitable option.
Use the Twilight-inspired fonts for all your wedding stationery. The fonts used in the Twilight Saga – series are the following:
Zephyr – Book Covers
Almagro Regular – Jacob's Handwriting
Pablo – Bella's Handwriting
Carmilla – Edward's Handwriting
Use quotes from the books on your wedding stationery or as part of your décor. Here are some lovely quotes:
"If I could dream at all, it would be about you. And I'm not ashamed of it." – Edward Cullen
"I'll always want you. Forever."  – Bella Swan
"I love you. I will always love you, no matter what happens now." – Bella Swan
"You're the very best part of my life."  – Bella Swan
"I dream about being with you forever. "  – Bella Swan, Twilight
"You are my life now. " – Edward Cullen
"And so the lion fell in love with the lamb…" – Edward Cullen
"You are the most important thing to me now. The most important thing to me ever." – Edward Cullen
"I Promise to love You Forever- Every Single Day of Forever." –  Edward Cullen
Original images and their credits available on Pinterest