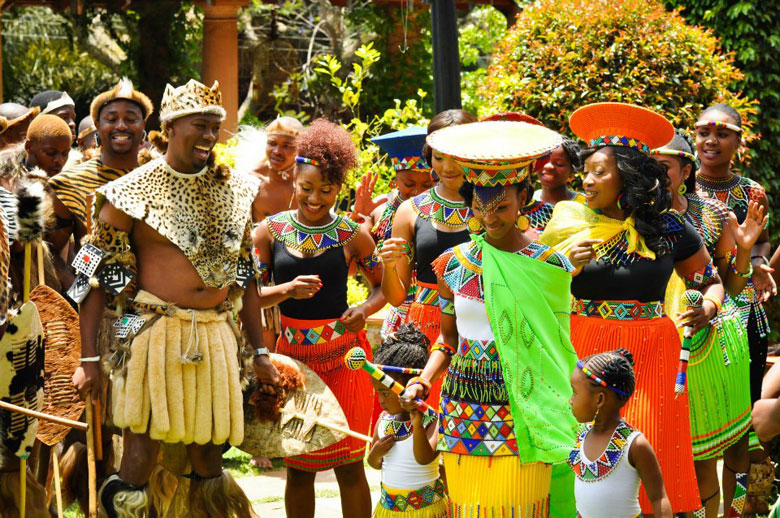 South Africa and its surrounding countries (such as Zimbabwe, Mozambique, Botswana and Namibia) are both beautiful and rich in character and culture. Having a southern African-themed wedding will ensure that your big day is filled with the multi-faceted magnificence of this area. This theme is perfect for a bush or outdoor wedding and suits couples that enjoy the splendour of the African nature. To get inspiration, browse through travel catalogues and wildlife magazines, taking note of the colours, textures and materials used.
Theme Colours and Prints
Looking at the African bush will reveal an array of shades of brown, gold, green and black. Use these in your theme colours to create a stylish, but effective theme. Using natural fabrics like hessian, linen, cotton, and so on will further enhance the theme. In addition, the African cultures are well known for their use of colourful beadwork and animal prints (in the case of authentic African tribes people, the actual animal skins are used, but this may not be ethically sourced so be aware of your choices).
Attire and Accessories
If you would prefer to maintain a mostly traditional look with regards to your wedding dress and suit, this is entirely acceptable within the framework of a southern African theme. Consider simply adding elements of traditional African prints and beads to this attire to round off your look. For example, a white wedding gown with colourful beaded jewellery or zebra print heels can work really well, but is still subtle. A black or chocolate-brown suit with a leopard print tie is fun and functional. If you are feeling more adventurous, consider an entirely African outfit that resembles one of the traditional outfits that southern African brides would wear, or that has been heavily embellished with colourful beads.
Dress your bridesmaids in black, brown or gold dresses with animal print embellishments, or put them in adorable knee-length animal print dresses.
Be adventurous with jewellery and hair pieces by incorporating porcupine quills, feathers and beads. When sourcing quills and feathers, ensure that they were sourced using environmentally-responsible, fair trade means so that you do not support industries that abuse or misuse natural resources.
Décor
Incorporate some of the following elements in your décor to create a fabulous southern African theme:
Ostrich feathers
African drums
Traditional tribal masks
Wooden candle holders
Wooden placemats
Thatch
Potjie pots
Guest Gifts
Spoil your guests with African mementoes so that your special day is equally memorable for those friends and family that share it with you. Consider the following options for your guests:
Mini potjie pots filled with nuts, fruit or chocolates.
Personalised beaded bracelets and / or keyrings.
Wire ornaments (particularly wire animals).
Flat stones with "bushman rock art" and personalised messages.
Photo Credit: blog.tbdress.com