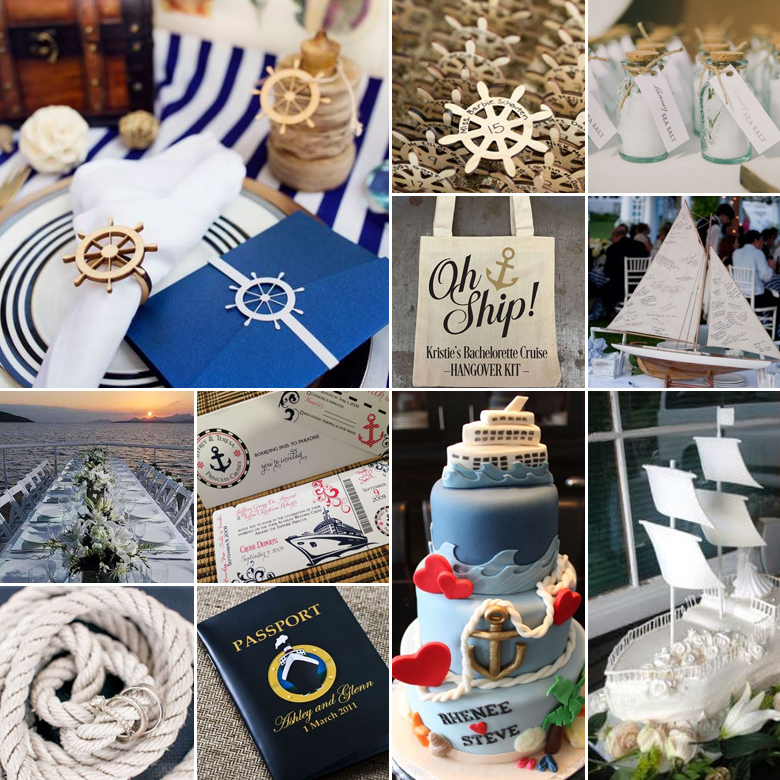 If you're passionate about the ocean and all things ship-related, then this theme has your name written all over it! Get shipped away on a wave of emotion, and make ships an integral part of your special day.
Instead of a traditional land-based wedding, consider taking your reception to the sea! Rent a boat for the day, and take your guests on an epic and memorable journey.
Shake things up in the photo booth, by building a frame with a portal for guests to peep through for the photo.
Incorporate cute little sea puns in your wedding day stationery, and ask your guests to dress "ship appropriate".
Fold your napkins and wedding invitations into the shape of tiny origami boats.
When it comes to the menu, serve plenty of ocean inspired foods like fish, calamari and so forth.
Use fishing net as part of your décor elements, and get a long piece of rope to physically "tie the knot" once you've said "I do".
Let the groom and groomsmen wear charming boat shoes for the wedding, and dress the ring bearer like a little sailor.
Rent an ocean facing venue for the big day, or a more charming boat house if possible.
Original images and their credits available on Pinterest