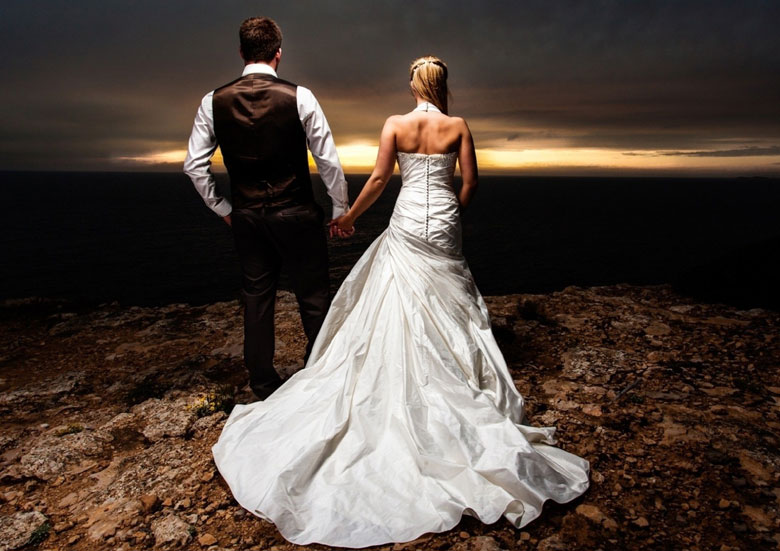 Your wedding day presents that once-in-a-lifetime opportunity to create a day that will forever be special. Weddings are also a representation of the personalities of the couple and the relationship that they enjoy. It is with this is mind that many couples decide to do something completely different. However, in an effort to create as unique a day as possible, many weddings have become nothing short of bizarre or comical.
Themed weddings have become increasingly popular. Much of their appeal lies in the fact that not only the wedding party are dressing up, but guests are encouraged to do so as well. Common themes include medieval, gothic, Victorian and famous couples; while those less indulged are leather, stuffed animals and the tattoo parade. Guests are likely to enjoy the participation, and the photographs are sure to start many a conversation in the future. In smaller towns, there is even a certain amount of media publicity that can be enjoyed during an event such as this.
Another way to add a completely new dimension to your special day is to involve those you love most in a novel way. Animal lovers delight at the thought of having their pooch carry their rings on a satin pillow, or their parrot sing a well rehearsed love song. Animals dressed in tuxes or satin dresses frequently make their appearance at their owner's wedding. Some couples find this very cute and rather novel. They need to take into account, though, that animals need special attention, and can not be allowed to trip guests or relieve themselves in public areas.
Las Vegas' "Drive Thru" weddings have been more successful than ever imagined. A couple drives up to the window, receives a bouquet and listens to a brief wedding speech given by the person inside the booth. Taped wedding music is played while they make their vows, sign the register and find themselves married, all within a few minutes. Many of the drive thru facilities give couples a complimentary photo and / or bumper sticker as part of their wedding package.
Couples who are particularly interested in one sport or pastime often manage to incorporate this into their wedding. Underwater weddings in full SCUBA gear have made the newspapers on several occasions, as have brides and grooms plummeting towards the earth saying their vows to the snap of the parachute chord.
For different, but slightly less bizarre options, rooftop weddings have proven to be popular. The views of the city below are stunning, the space is usually ample, and the effective use of the elevation can be romantic and beautiful. It is also ideal in terms of noise pollution as loud music does not disturb any neighbours and the city sounds down below seldom reach the rooftop.
Another fantastic option is to invite your guests on board a yacht or boat. This enables you to ensure that all the space available is reserved only for your guests. It is also sheltered, but still provides stunning views, and is private. Dancing on a candle-lit deck with the water sparkling below is an idyllic way to start your lives together in style and elegance.
A wedding can be alternative in nature without spending a lot of money. In fact, some of the more extreme weddings are frequently more cost-effective, as they do not involve the usual venue hire, dress and catering. The style of your wedding has everything to do with the personalities of both the bride and groom, and how you choose to represent your union. Alternative weddings are always memorable and, if appropriately executed, can leave both the couple and the guests with a lasting impression of that unique day.

Photo Credit: www.mrwallpaper.com