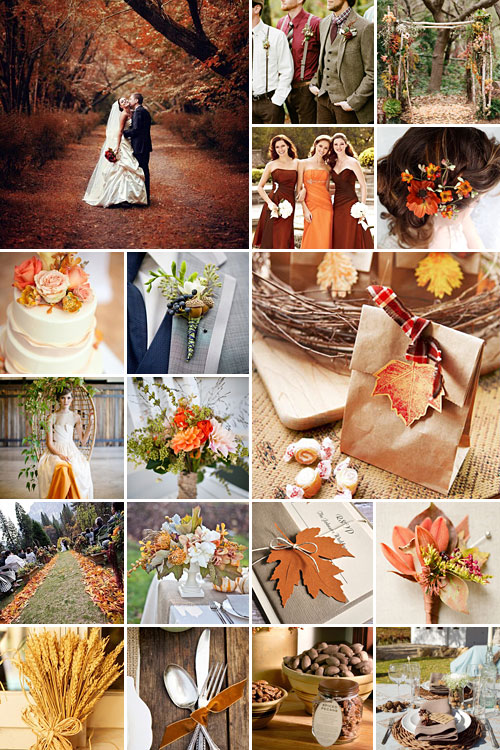 When you think of Autumn, warm and intimate colours generally pops to mind. As a wedding theme, the vast colours that reflects autumn give you, the bridal couple, so much variety and freedom to play with for your decor, while being able to also make use of a natural backdrop from your outdoor surroundings.
When?
Autumn in South Africa takes place between mid-Feb to end April. The weather during this time is particularly enjoyable as it's generally a nice, cool temperature, making it very comfortable especially for the more formal weddings where men, in particular, are required to wear suits and / or tuxedos.
Colours
Colours are the best part of planning your Autumn wedding and it's the area you can focus on the most to create the perfect atmosphere, from warm and romantic to elegant and chic.
Colours that work well with this theme include deep red, rust red, eggplant purple, navy or deep blue, mocha, olive, silver, chocolate brown, pale yellow, orange, white, ivory and champagne.
Tips on planning your Autumn Wedding:
Find a location that offers a garden or open area where the natural surroundings of trees and leaves can reflect in your photos. Places that you should typically look for would include old churches that have a garden where you can have photos taken, old barns, old mills, a forest, golf club or vineyard.
Use colourful flowers such as daisies, roses, autumn leaves, hydrangea…check with your florist for some more suggestions on what would work and what is in season.
Opt for serving foods that are warm, particularly if you are having an evening wedding when it may be slightly more chilly than usual.
For your wedding favours, find colourful treats for your guests which reflects the warm colours used e.g. fudge, nougat boxes, etc.
Use leaves or leave imprints on your wedding invitations or try something different like creating your invitation in the shape of a leave or petal.
Your options are endless and the Autumn wedding theme is a definite favourite in Celebration.co.za's books! Have fun with it!
Original images and their credits available on Pinterest