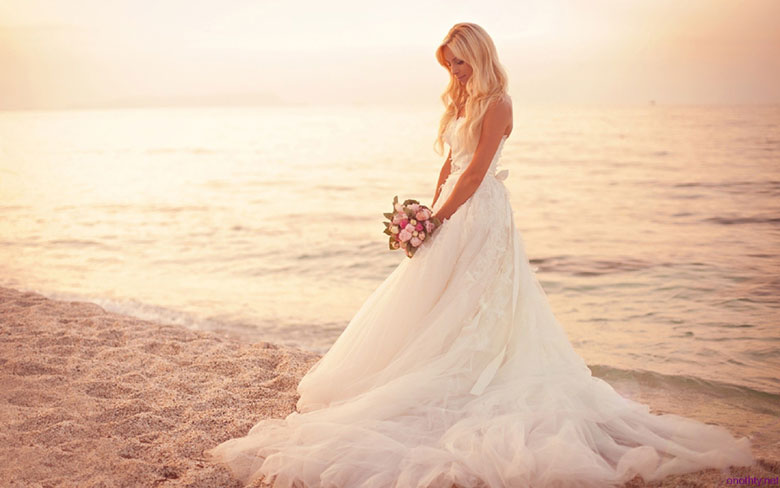 Somewhere along the line, most brides have fleeting ideas of a beach wedding. The romance and fun, combined with salty sea air and a warm breeze are alluring. However, planning a beach wedding actually requires more in terms of preparation than most traditional venues do, usually because of the elements and the logistics of feeding and accommodating guests on a sandy floor. A beach wedding lends itself to creativity and innovation, leaving guests and the bridal couple with a rather special, memorable experience.
Wedding Invitations – set the tone by using natural materials and elements of the sea and beach in your invitation. These may include sand or textured papers, palm tree leaves, starfish, water motifs, or colours that reflect the sand, sun and sea. Tying invitations together using shells, seaweed, fishing rope, towelling, etc… is a great way to finish your invitation off to perfection. Alternatively, inserting the invitation as a scroll in a small glass bottle is sure to put your guests in the beach-party mood.
Décor– A wedding that physically takes place on the beach is automatically granted its own beauty just by virtue of the white-tipped waves meandering across the sand and back again. Enhance these gorgeous surrounds by using pebbles, grasses, leaves, sand and water to beautify your alter, aisle, tables and so on. Using miniature surfboards, beach balls or towels to indicate place settings, as 'thank you' notes, or menus shows imagination and builds the ambience of your beach wedding. Use natural lighting, such as candles and fires, or lanterns. These work together to create a relaxed sense of the outdoors, while still reinforcing the romantic look and feel. A sandy dance floor surrounded by lanterns and candles is the ultimate in ocean-side nostalgia and encourages guests to submit to the loving atmosphere around them.
Dress – The wedding gown is the highlight of the day for many brides. Having a beach wedding does not mean that you need to negotiate on the quality or pizzazz of this dress, but there will be several factors to be taken into consideration. Soft sand and a hot sun may present a few challenges, and the outdoor ambience sets the scene for a dress that incorporates natural materials and beauty rather than synthetic shine and poof. Your shoes will probably be the most restricted wardrobe item, as you and your new spouse will need to walk and dance in style on soft sand. Consider making a feature out of your footwear by decorating flip-flops with shells or flowers, or going au natural and walking barefoot. This is fun, comfortable and creates an aura of humour around the challenge. Consider the comfort of your bridal entourage when choosing their outfits. Keep all materials light, breathable and comfortable as you are particularly exposed to the elements on the beach. Bear in mind that the clothes may get wet and sandy during the photographs and make allowances for this. Depending on the general feel of your day, it may even be appropriate to have the groom and groomsmen in shorts, or cargo trousers that zip off at the knee. Likewise, dresses can be knee-length rather than full-length.
Beauty – The bride and her bridesmaids look forward to being pampered and preened on this special day. However, the salty sea air, wind and sun can prove to be the enemy as hair frizzes, mascara runs and foundation melts. Keep make-up to a minimum, if possible. Test your trial hair and make-up out in similar conditions – sit on the beach on a warm day and see how long it lasts. Your personal hair condition and type will determine what you do with it on the day. However, neat, swept back styles will prevent the effects of frizzing from showing, as will the inclusion of flowers, feathers, shells, etc…If you prefer your hair to hang loose, accept that it may not look neat for the entire duration of your wedding. The tousled look is very appealing, but only if it is what you were going for!
Food – It is difficult and not always appropriate to have a formal caterer serving food on the beach. A luxury barbecue with Thai-spiced prawns, homemade breads and vegetable skewers is a fun, easy and tasty alternative. Otherwise, a platter / buffet of fish, mussels, calamari, shrimp and so on carries the theme effectively and is easy for the guests to eat without cutlery.
Take advantage of the stunning photograph opportunities in the waves, on the sand dunes, and under the warm afternoon sun as you enjoy this relaxed, fun theme with friends and family. You may also choose to move your reception from the dunes or sand onto a nearby yacht for a more luxurious experience. This will require extra preparation in getting guests from the shore to the yacht.
A wedding is meant to be a day that celebrates the unique love and commitment that you share as a couple. For this reason, it allows a lot of flexibility in expressing this commitment with and before friends and family. A beach wedding is apt for a relaxed, fun, nature-loving couple that wants their day to convey the same languid feel.
Photo Credit: xtrememerch.com