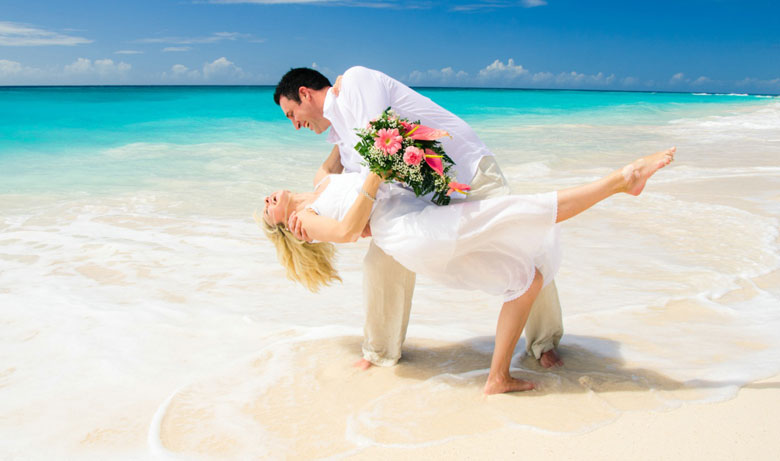 A beach wedding is a beautiful event – with the beautiful scenery and atmosphere, it's a winner all round, but one does need to take a few things into consideration when choosing a beach wedding for your big day.
The Important Things To Keep in Mind
One of the biggest things that one must not forget about is Mother Nature. Unfortunately, we have no control over the weather, so the first thing to remember when choosing a beach wedding for your wedding day, make sure you have a backup plan to avoid both upset and panic setting in if rain, snow or serious winds arrive.
When using a wedding venue such as a restaurant or hotel, often the caterers and hiring of equipment has been taken care of or forms part of the wedding venue fee. So, when choosing to have a beach wedding, consider your budget as you may have to hire additional items / services for your wedding such as:

Marquee
Dance floor
Chairs
Caterers
Toilets / Restroom facilities
Etc

Climate – no matter what time of year you get married, getting married on the beach can subject both you and your guests to a slight breeze or wind. When choosing beach, make sure to ask your wedding planner or location specialist about the wind and what areas are sheltered areas on the beach to ensure your guests and you will be protected from any possible winds on your wedding day.
You will need a permit to get married on the beach, so make sure to check with your wedding planner and / or the City Council.
Consider birds on the beach such as sea gulls and gulls that can be a nuisance when food is around. Although, don't make this a deterrent, just keep it in mind or ask your planner about possible ways of avoiding this if the beach is known for having gulls flying around.
Make sure to find out about the tides for the time of year you choose to get married as this will play a role in how much space is available on the beach and will ultimately ensure your you and your guests remain dry.
Sunscreen, sunglasses and sun protection – if you are getting married during the day e.g. late morning / midday, suggest to your guests in your wedding invitation that they bring umbrellas / sunglasses and sunscreen as a precautionary measure.
If hiring chairs, you will require a floor as the chairs will sink into the sand – keep this in mind when considering your wedding budget.
Parking – if having a large number of guests at the wedding, consider where they will park and / or how far they will need to walk to get to the beach. This is important especially if you plan on having elderly or physically challenged guests.