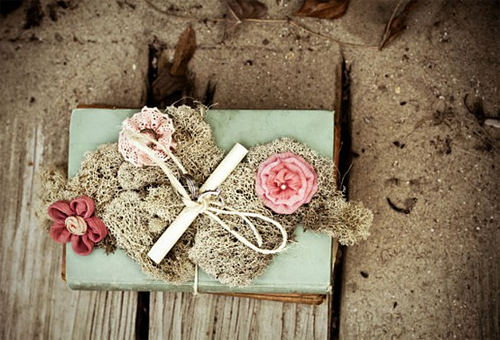 Ring pillow via Emmaline Bride
A beach wedding is something very special. Celebrating your day with the sunshine warming you and the smell of the ocean wafting around is just about as good as it gets. It also sets the tone for a relaxed day where young and old can let loose and enjoy themselves, rather than a stiff formal function.
Still, planning a beach wedding requires a bit more effort and time in terms of preparation than the more traditional venues, because weather, location and accessibility are all major factors to consider.
You will definitely need to have a Plan B in case of unseasonal showers or bad wind. If you don't want to lose the whole look and feel of the beach, find one on which you can erect a marquee, which will give lots of shelter while still inviting the outdoors in.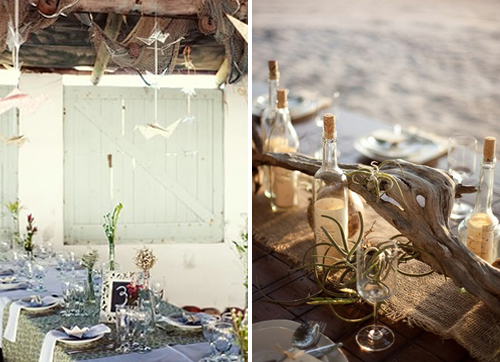 We Love Pictures | 100 Layer Cake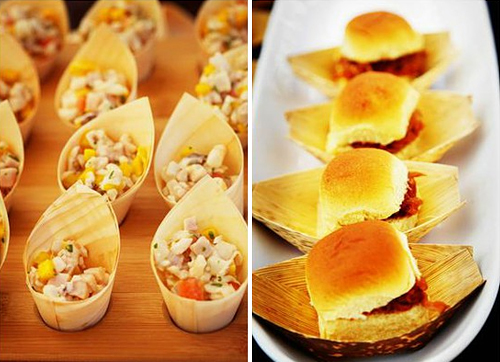 Beach food ideas via A Lowcountry Wedding
Here are some fun ideas for your beach wedding:
Give each guest a pair of comfy flip-flops for the reception, so that they can dance, walk in the sand and mingle without becoming uncomfortable. These can double as your guest favour.
Use a surfboard as the tabletop for the gift or buffet tables.
Have shell clips or embellishments on your fascinator, hair piece or veil.
Scatter beach towels on the floor or sand dunes for guests that want to get really comfortable.
Provide beach balls as photo props or as entertainment for the kids.
Use natural lighting; like lanterns and candles.
Popular design elements for a beach wedding include shells, sand, starfish, fish, rope, seaweed, palm leaves, yachts and fishing rods.
And for HEAPS of visual inspiration, check out our Beach Wedding inspiration board on Pinterest!