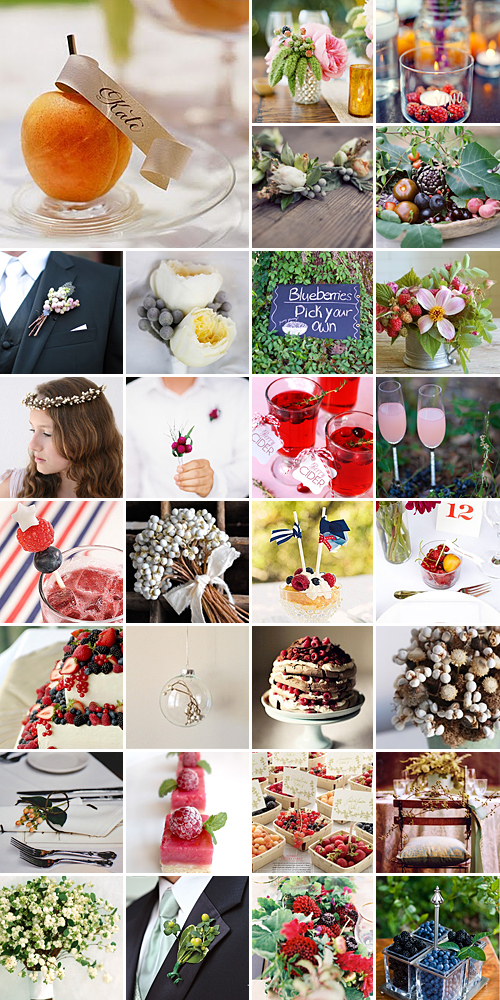 When you think "berry", the first picture that jumps to mind is a plump juicy strawberry, of course. However why limit yourself to red, when there's a whole spectrum of deep purples, zesty oranges and ruby reds waiting to jump on the table? Blueberries, raspberries, gooseberries, mulberries, blackberries are all ideally suited to the berry-ful occasion and are the ideal treat for a summery wedding.
Then again, why limit yourself to edible berries? Because of their untamed exterior, wild forest and tree berries can make for whimsical decoration. They're also far less likely to pop and spill juice all over the place, which makes them ideal for boutonnieres, bouquets and table arrangements. Just be sure to inform guests that they're not edible to save yourself a trip to the ICU.
Send each guest home with a jar of homemade berry jam and freshly baked scones which they can enjoy the next morning.
Summertime calls for berry smoothies, sorbets, popsicles, milkshakes and freshly pressed juices – berry galore!
Add a touch of sweetness to your stationery by using berry-shaped stamps and incorporating berry prints into the printed designs.
Decorate the tables and chair backs with freshly clipped forest berry vines – for instance, wind it around a tall candle or arrange them in a glass vase.
Garnish the wedding cake with succulent berries and chocolate curls or substitute the cake with a three-tier chocolate fountain and berries to dip.
Host your wedding on a berry farm and head into the field to pick fresh berries for your photo shoot.
Swap your floral bouquet for a bunch of wild berry vines and feel free to tuck a small clump behind your ear to complete the look.
Laden the dessert table with all kinds of berry deliciousness – berry cheesecake, flans, pancakes, freshly baked pies and more!
For more Berry Weddings ideas, the original photos above and their credits, make sure to check out our Berry Weddings Pinterest Board!