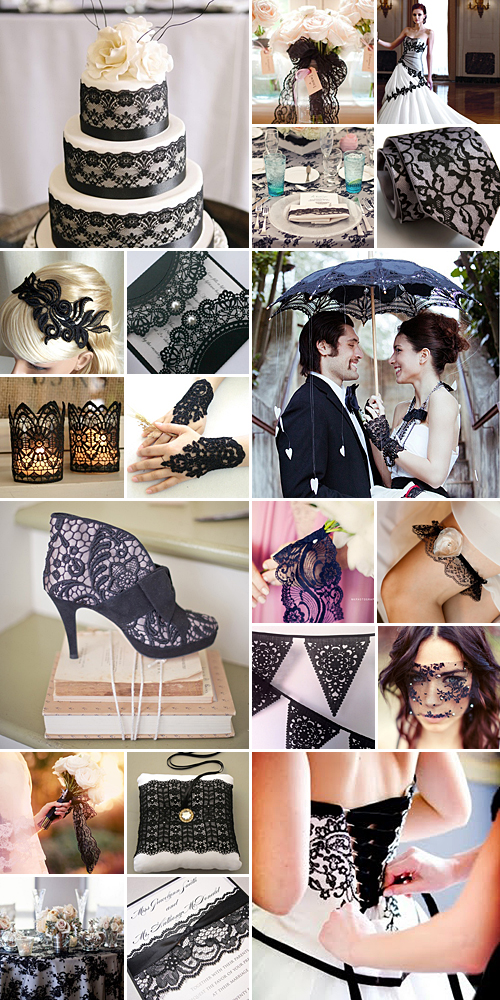 If there's ever a day on which you're allowed to be a little theatrical and melodramatic, it's your wedding day. And let's be honest – nothing says "ra-ra-ooh-lah-lah" quite like sexy, seductive, delicate black lace.
This exquisite fabric's true appeal lies in its semi-sheerness and the dramatic effect that's created by layering it with other fabrics and colours. It's really just a matter of deciding whether to go for feminine romance or burlesque drama; layering it with white or pastel coloured fabrics will create a soft yet striking contrast whereas combining it with jewel tones and darker shades has a more seductive appeal.
Once you've lost your heart on black lace, there's really no going back, so now is the time to push boundaries and be a little controversial:
Decorate the wedding cake with black fabric lace or edible lace sculpted out of fondant, or opt for cupcakes in black lace-like laser cut paper cups.
Decorate your stationery with a black lace printed design or border, and snippets of lacy ribbon.
Complete your bridal ensemble with black lace gloves, hair band, a lacy sash, black lace veil, garter or stunning lace covered shoes.
Take the lace effect a step further by decorating your body with a temporary black lace tattoo or body art.
When the chill starts creeping in, slip a little black lace jacket over your pearly white gown.
Supply your girly guests with theatrical black lace fans or parasols – ideal as guest favour and to keep cool during a summertime ceremony.
Decorate the venue with black lace bunting, table runners
Add a touch of lacy loveliness to hubby's attire with a black lace pocket square or boutonnière.
Let your bridesmaids flaunt their sexy legs in mini dresses and black lace stockings.
Make your very own black lace votive candle holders by simply wrapping a small glass in lace. Alternatively you can adorn the walls with black lace and fairy lights to bathe the venue in enchanting mystery.
For more Black Lace Wedding Ideas, the original photos above and their credits, make sure to check out our Black Lace Wedding Pinterest Board!