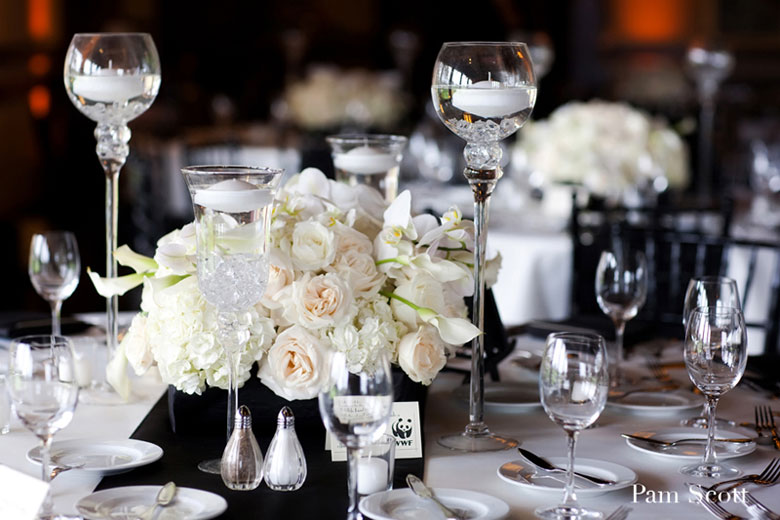 The Black & White theme has long been used in décor and fashion to create a dramatic, timeless vision of elegance and style. However, this theme has also hit the wedding scene in recent years, and continues to be a favourite amongst brides- and grooms-to-be as well as of professional wedding planners. The Black & White theme and colour scheme can be particularly easy to implement because there are very few design elements that are not able to be interpreted into black and / or white. It creates a bold, dramatic ambience, with equal balance on the masculine (black) and feminine (white) elements of your special day.
A checked pattern works particularly well with a Black & White theme, but dramatic swirls and tendrilled floral designs are also beautifully translated into these bold colours.
Attire and Accessories
The traditional Western look for the bridal couple is already defined by a white dress for her and a black suit for him. This means that you can maintain fairly conventional attire while still incorporating your theme effectively. To add to the Black & White theme, use accessories, such as a black fascinator, jewellery, lace or bouquet, or a white waistcoat and tie under a black suit.
With one small change, you can reinvent the Black & White theme for your wedding – dress the groom in a pristine white suit and have the bride in a striking, elegant black gown. This is a great idea for brides that do not favour white, or who want to make a real statement without negotiating on beauty and style. The bride can then introduce elements of white into her accessories, while the groom may don a black waistcoat and tie, if he does not want to go with a completely white outfit.
Fun accessories are always a great way of making a statement. Consider black and white checked shoes for the bride and bridesmaids or zebra-print waistcoats for the groom and his entourage, for example.
To add black to an otherwise white arrangement of flowers, consider using beaded blooms, black feathers (such as ostrich feathers) or ribbon.
Décor
Any conventional design features (such as the table cloths, chair covers, placemats, and so on) can be created in black and white for your themed wedding. However, the following iconic items and prints can also be incorporated, some of which create a formal look and feel, while others can be quite comical:
Black & White photographs hung up throughout the venue (these can be romantic, abstract or of famous rock icons, if you wish).
Checked flags (which indicate a winner!)
Zebra print
Dice (perhaps as place name settings or guest gifts)
Polka dots
Black night sky with white glittery stars
Chess boards (these make very interesting centrepieces and will get your guests talk – or playing)
Tuxedos (a wedding cake dressed in its very own tux is sure to be remembered)
Orcas or penguins
Yin Yang symbols
Visit our blog for more black and white wedding inspiration.
Photo Credit: aileentran.com