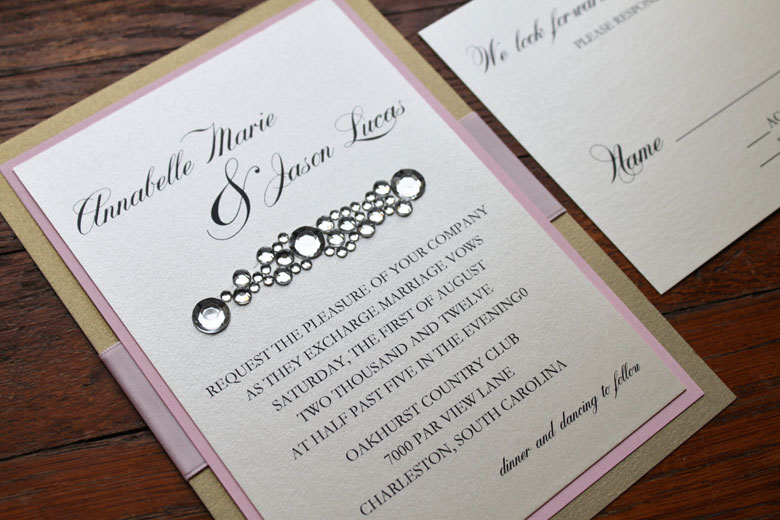 The term 'bling' originally applied only to really flashy and over-the-top jewellery. However, this style has evolved and now generally refers to embellishments that transform an ordinary item into a particularly sparkly one with a distinct air of pizzazz. A bling theme can be a fabulous way to introduce sophistication with an air of grandness and fun to your wedding. In general, bling can be added by the use of mirrors, cut glass, twinkling lights and crystals or diamantes. This can apply to every aspect of your day; from your hair and make-up to your venue and transportation. The following ideas may assist you in blinging up your big day to perfection:
Attire
While white is the perfect colour for a bling wedding dress, colours like gold, silver and pink work well too (whether as the main colour or as an accent colour). Because glittery gemstones, diamonds and mirrors reflect light the best, try to incorporate these on your bustier, skirt and jewellery as much, but as tastefully, as possible. As you move in the venue and amongst the candles or lights, you will sparkle in blingy magnificence.
The bridesmaids can also be blinged up, although not quite as much as the beautiful bride. The groom and groomsmen may opt for shiny silver ties and waistcoats, or really blingy cufflinks.
Beauty
Use glitter dust in the make-up and bronzer on your faces so that you look fresh and iridescent. Consider wearing fake eyelashes that are encrusted with shiny stones for a dramatic effect. Include diamonds and crystals in your hair, whether in the form of a tiara, an encrusted fascinator, or simply strings of stones threaded onto clear gut and draped through your hairstyle.
Décor
Crystallise your venue with loads of sparkly embellishments and an extensive use of crystals. Create a crystal tree by spraying branches silver and securing them into a glass container. Then, thread crystals onto clear gut, like drops of water on a spider's web thread. Hang the gut and crystals from the branches. The light will catch the contours of the stones and create a stunning vision. Sprinkle tiny crystals or foil confetti onto the tables and ensure that vases are made from glass, so that they complement the bling theme. The wedding bouquet will be finished off perfectly by including diamonds in the centre of the blooms (a service that is available at most florists) or a diamante-encrusted ribbon.
Roll your fabric napkins and use napkin rings with gorgeous crystal embellishment, or have them custom-made to resemble a giant diamond ring.
An ice sculpture would add an entirely new dimension to your bling theme, particularly if it is the stand on which your wedding cake is placed.
Wedding cake
There are amazing ribbons available throughout South Africa, which will go a long way in creating your bling cake. Simply tie them around the base of each tier for an elegant, blinged-out look. Alternatively, top the cake with the initials of the bride and groom made out of wire and threaded with crystals or stones. You may even consider adding fairy lights to your cake while it is on display. For a more subtle approach, use fondant to create diamond shapes.
Transport
Because bling has taken on an air of all that is bigger and better, fabulous transport options include Hummers and Limousines. However, another option is a horse-drawn carriage. See http://www.weddingcarriage.co.za/carriage.html for details on how to hire your own personal carriage for a truly fairytale experience.
Guest gifts
Consider the following memorable favours for the friends and family that shared this special day with you:
Chrome key rings
Crystal wine glass ID tags
A disposable camera that you have covered in gemstones and sequins (simply glue it onto the cardboard exterior)
Large gemstones to be used as paperweights
Sparkly picture frames
Photo Credit: www.onewed.com