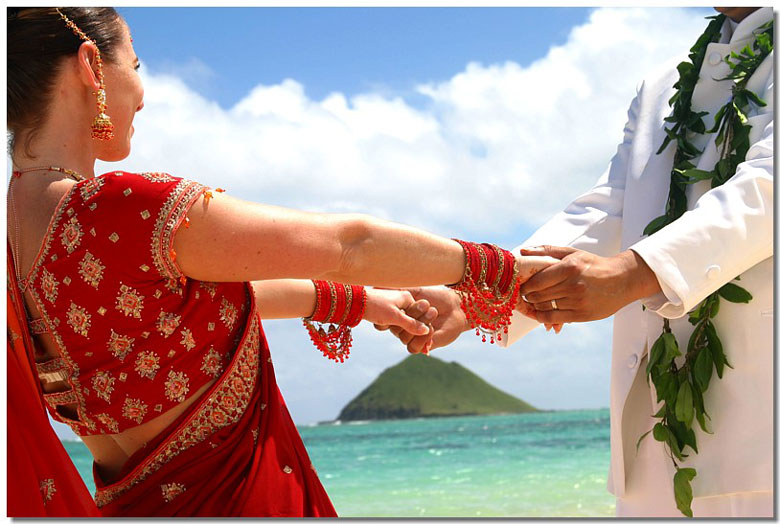 The name "Bollywood" refers to the thriving film industry in India. This industry is a multi-billion dollar one, producing renowned feature films and adored celebrities that have become known all over the world for their singing, dancing and acting abilities. Bollywood is characterised by plenty of bright colours, bling and just plain OTT (Over The Top). Therefore, Bollywood is a playful and exciting wedding theme, with so much flexibility and fun within the genre.
Colours and Design Elements
Bollywood is all about vibrant colours, ornate embellishments and opulent textures. Use hot pink, orange (bright or burnt), deep red, glittering gold, luxurious brown, bottle green and midnight blue for the best effects. Layer various fabrics of different weights; from thick quilts to flowing organza and everything in-between; for a really effective look and feel with minimal effort. A Bollywood theme should pique all of the senses and give your guests an array of things to see, touch, hear and taste. Use gold thread, fluffy tassels, sparkling sequins and beads in your décor and attire.
Attire and Accessories
Your wedding outfit, and that of the entourage (bridesmaids, groomsmen, etc…), gives you (as the bridal couple) the ideal opportunity to convey your theme effectively. If you definitely want to wear a white dress, consider a gorgeous, ornately-embellished white sari with gold detailing and beaded headwear. This is still very Bollywood, but also simple and unique. If you prefer a more traditional wedding gown, introduce the theme with your jewellery and accessories, as well as Henna tattoos on your hands and feet. Have your bridesmaids and the flower girl in colourful saris, ensuring that they all feel comfortable in this attire, particularly if it requires that parts of their stomach, sides or backs are exposed. For a trendier approach, dress your entourage in belly dancing outfits. The groom's dress should also be colourful and ornate, taking advantage of the gorgeous textiles available. Consider putting only him in a turban to set him apart from his groomsmen. Opt for sherwanis, Jodhpuri suits, kurta pyjamas or formal tuxedos for these men.
Décor
As always, use fabrics that are richly coloured, ornately embroidered and heavily embellished for your napkins, tablecloths and guest favours. Include the following décor elements for the ultimate Bollywood glam:
Indian tents (perhaps using one as your reception venue)
Pillars, wrapped in gorgeous fabrics and fairy lights
Tables named according to popular Bollywood films or actors
Bronze genie lamps
Ottomans
A red carpet
Ornate candles
Ornamental elephants (a sign of fertility and good luck in India)
Trinket boxes
Guest Favours
Give your loved ones and friends something special by which to remember this very special day. Just some of our guest favour ideas include:
Ornamental elephant (which carry much significance in the Indian cultures and religions)
Ornately decorated metal boxes (perhaps filled with chocolates, Chai blends or a curry spice)
Packets of premixed curry powders or traditional teas
A copy of your favourite Bollywood film on DVD
Photo Credit: www.weddingthemes.net