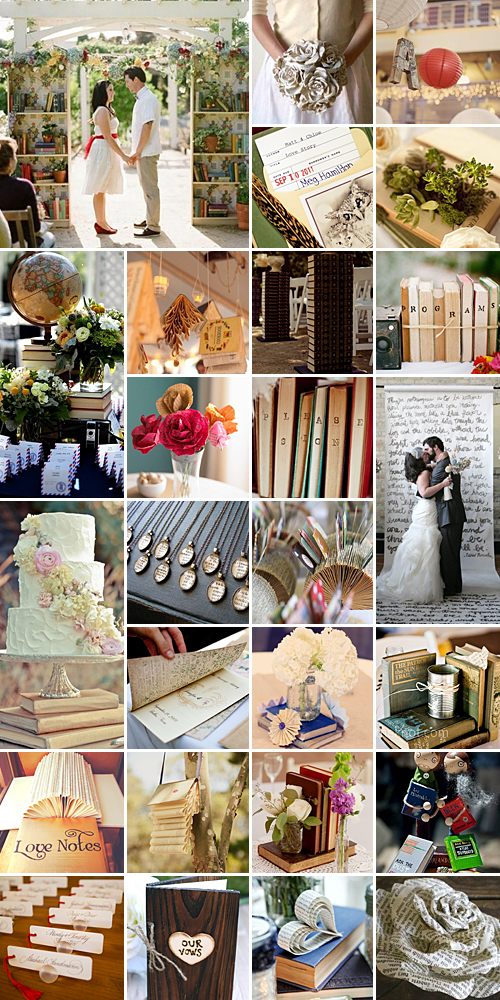 With this charismatic theme you have to both love and hate books simultaneously, especially when considering the amount of tearing, cutting and dissecting you'll have to do for the sake of your creative cause. Books have an aura of homeliness about them and instantly make your space feel comfortable and tranquil. Keep an eye out for old second-hand books with slightly yellowed pages as these have a unique old-world charm about them that will add to the ambience.
However you don't have to only use them for decorative purposes. For instance, why not tape your table number to the cover of a classic with a strip of pretty washi tape? Choose interesting titles or quirky conversation starter books that will serve as ice breakers around the table, and hand out little joke books to get the comedians out of their shells. But let's not stop there! Here are more page-turning ideas:
Use stacks of books on the various buffet tables to add height and dimension.
Laminate two pages of a book and use them as open book place mats.
Cut the pages into tiny pieces and have your guests scatter the fragments instead of traditional confetti.
For a whimsical and mysterious ambience, suspend books from the ceiling and/or trees using fishing line. This will create the illusion of flying books.
Turn book pages into bunting or turn them into origami pretties with which to decorate the tables.
Have a peep around second-hand book stores and see if you can snag a book that encapsulates the personality of each of your guest – a personal yet affordable guest favour if ever there was one!
Tie your wedding rings to a small stack of books rather than a ring cushion.
Print enlargements of your favourite book quotes.
Instead of table numbers, assign the names of various classics to each of your guest tables.
Swap the usual guest book for a copy of your all-time favourite book and allow guests to scribble over the type with a permanent marker.
If you're in charge of planning the bridal shower, instruct guests to bring a book as gift so that you can fill a bookshelf between the lot of you – perfect for the bride's new home.
For more Book Wedding Theme ideas, the original photos and their credits, please make sure to check out our Book Wedding Theme Pinterest Board!