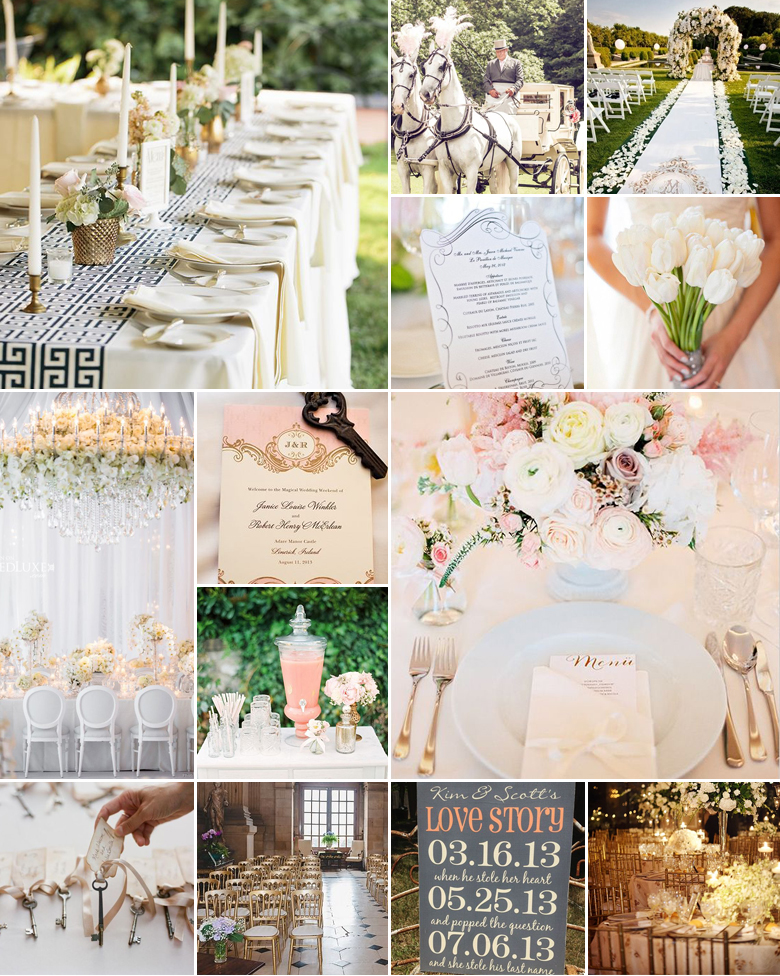 Feeling like a princess is a line that's synonymous with wedding celebrations, so it was really only a matter of time before we arrived at a castle theme wedding. Important to note is that this theme is more about enchantment and magic than royalty and opulence. So instead of heavy velvet drapings and gold chairs, you'd be better off going for layers of flowing chiffon and whimsical ghost chairs.
Your choice of venue is going to play a huge part in the ultimate success of the theme. While castles aren't exactly available on demand, you'd be just as well off settling for a venue with stone walls and antique character, or at the very least one with a magical staircase which you can use for the photo shoot.
A couple of other ideas you might want to consider:
Lighting is also key as it will set an almost enchanted ambiance and bathe the venue in fairy tale romance and whimsy.
Use plenty of white and cream roses for the bouquets and table arrangements, and adorn the walls with creeper ivy.
Opt for a towering wedding cake with elements of castle architecture worked into the shape.
Adorn the room with plenty of heavy antique silver elements as well as crystals, chandeliers and glassware.
Serve light yet regal treats like petit fours, macaroons and gold dusted cupcakes, along with a towering white chocolate fondue.
Arrive at the ceremony on a stunning white horse, adorned with flowers.
Original images and their credits available on Pinterest