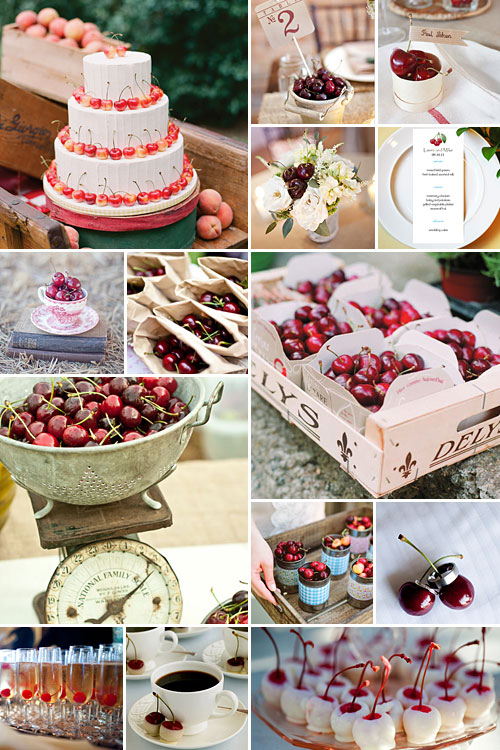 Why only settle for a cherry on top when you can have an entire wedding day themed by these gorgeous delights? Cherries have a very organic and natural character to them, but let's not forget their naughty and seductive side. You can therefore either opt for one or the other, or play on both these "personas" to create a theme that's chockfull of surprises!
To complement and emphasise the rustic and organic feel of the cherry, use plenty of farm-inspired elements like raw cotton, burlap, wood and rusty metals, and make sure the tables are laden with homemade cherry pies, jams and preserves. For a more luscious and sexy look and feel, play around with bling, black and cherry red corsets, plus dark chocolate and swirls of whipped cream on the foodie side of things.
Here are more examples of juicy cherry ideas:
Spoil guests with mini boxes, baskets or jars packed with freshly picked cherries which they can enjoy at home.
Garnish everything from the cocktails and champagne to desserts and wedding cake with fresh and chocolate covered cherries.
When it comes to the ceremony, use a cherry stalk as a symbol to "tie the knot" or better yet – challenge guests to tie the stalk into a knot with their tongues for the perfect photo opportunity!
Incorporate cutesy cherry designs and illustrations into your stationery elements, and hang garlands and strings of cherries from the ceilings and chandeliers.
Keep a lookout for a cherry-patterned fabric which you can use for the flower girl dress and finishing touches on the bridesmaid dresses.
Original images and their credits available on Pinterest