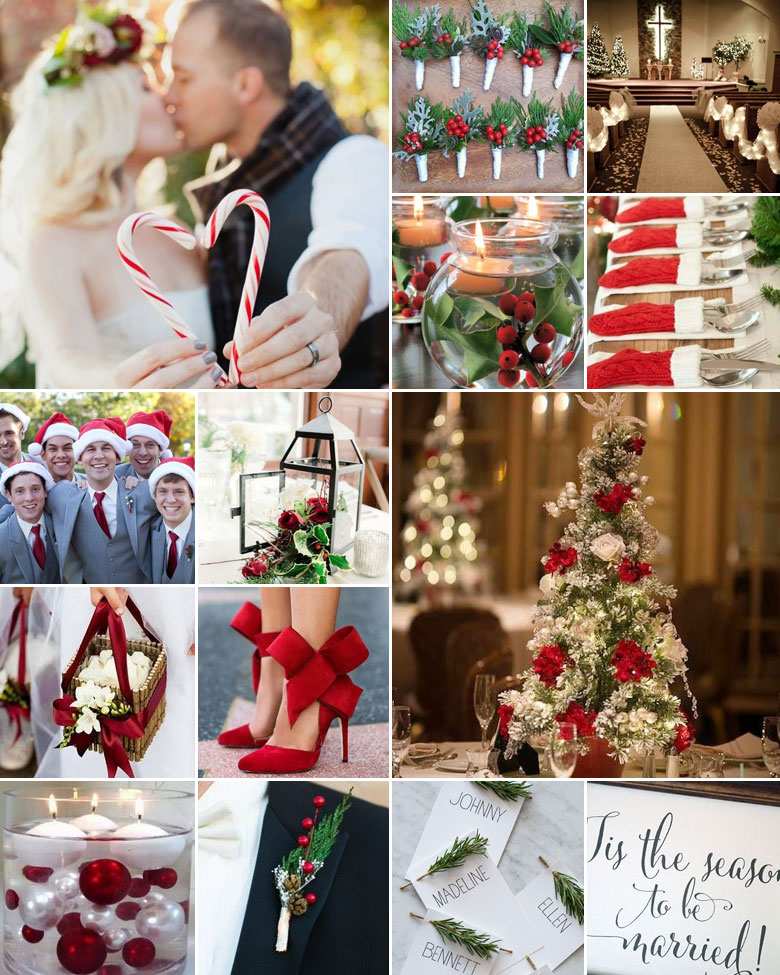 Getting married close to Christmas can be great fun! Combining the merry and festive season with your special day can add a special element. No one will forget your wedding anniversary again as Christmas time will remind them of you and your partner! So, if you're getting married around Christmas time and you would like to go with the Christmas theme, here are a few Xmas wedding ideas for you to consider when planning your Xmas wedding:
The green, white and red are the colours that typically symbolize Christmas, so for a Christmas feel, be sure to use include these colours or close variations (e.g. silver, cream, light blue, burgundy, gold, etc) at your wedding ceremony and / or wedding venue. Keep in mind that churches may already have these colours already in preparation for the Christmas Eve and Christmas day ceremonies.
Invitations usually reflect your theme, but you don't want your invite looking like a Christmas card, so make sure to speak to your stationary provider about possible options.
Consider your guests and their plans around this time of year. Invitations should be sent out well in advance (up to 3 months prior to the wedding) to ensure your guests are aware of your wedding in case they were making plans to go away.
Generally, costs increase at Christmas time, so to save some money, try to buy things that will not perish in advance.
Use holly and mistletoe for the décor on your tables, center pieces or even in your doorways.
Roses, white flowers and ivy for your bouquet will add a magical Christmas touch and feel.
Add small bells on ribbons to your bouquets that will ring gentle as you walk down the aisle.
Grooms can wear a deep red / burgundy shirt under their tuxedo or a deep red / burgundy tie or bow tie.
Groom and groomsmen / best man can have mistletoe for their button holes – perfect for the groom when wanting a kiss from his bride!
Brides can wear a touch of red by carrying a shawl or wearing a deep red sash around the waist. Alternatively, brides can opt for a deep red wedding dress – certainly a dress with a difference.
Candles are always used at this time of year, so having candles at your wedding will definitely add to your Christmas theme.
Sing Christmas carols at the ceremony. Suitable carols may include "Hark the herald angel sing" and "O come, all ye faithful"
Have your ring bearer / page boy wear an elf or Santa hat.
Make sure to ask your DJ to play a few well known Christmas oldies such as "I'm dreaming of a white Christmas" and "Santa Bring my Baby back to me".
Consider making your wedding cake the style or design of a Xmas gift with ribbons and other Xmas decorations. Alternatively, have a few tiers of Xmas gifts. Decorate the cake with a few ribbons, mistletoe and / or holly.
If you have a large number of children attending your wedding, hire a Father Christmas to entertain the children and find out what they want for Xmas (make sure the photographer and / videographer get some shots of this as this will wonderful to see a few years on)
Decorate your wedding venue with Christmas lights – make sure to check with the venue about plugs for the lights and whether they can supply the lights.
Be unique with your wedding favours by giving your guests:

A Christmas tree decoration or a small set of Christmas tree decorations that symbolize your wedding – they can hang the decoration(s) in their Xmas tree every year and be reminded of your special day.
A small chocolate or box of chocolates / truffles wrapped as a Christmas gift.
A Xmas hat that they can each wear at the wedding – this will certainly allow for Christmas colours to be used and the photographs will certainly be unique and memorable!
Christmas crackers with special gifts that will remind them of your special day.
A Christmas stocking at each seating filled with little goodies such as chocolates, message from bride and groom and candy sticks.
Remember: Although the Christmas theme can be great fun, remember that less is more. Have fun with it, but don't overdo it.
Photo Credit: www.jessicaschmittphotography.com