Coca-Cola Wedding Theme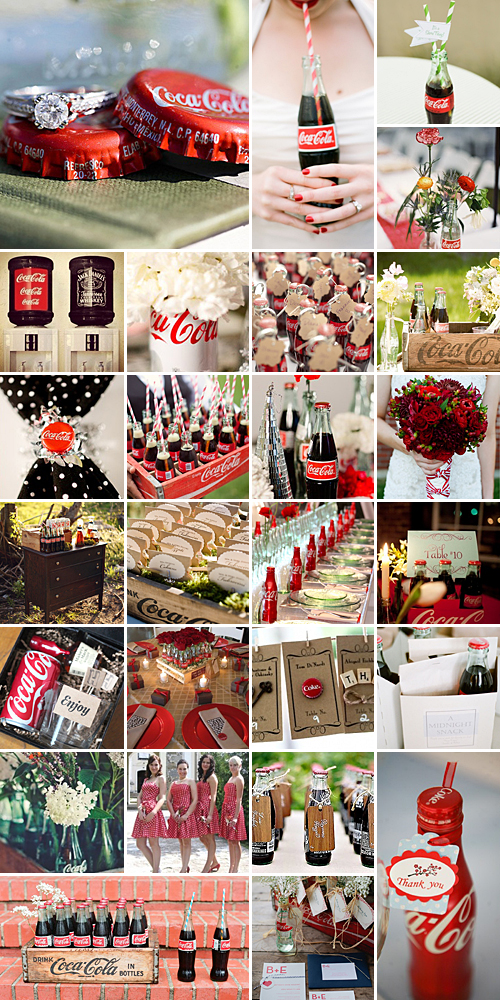 Coca-Cola has been around longer than any of us can remember and this fizzy deliciousness is as part of our culture as garter tossing and cutting the wedding cake. Here are a few sweet ideas for incorporating this classic beverage into your wedding day:
Find a real old classic corner shop with a big red Coca-Cola sign painted on the wall, and use it as the site for your retro vintage wedding or engagement shoot. You can even use enlarged prints of these pics as wall art on the actual day.
Incorporate fun Coke-swigging moments into your photo shoot – sharing a bottle at the pier, drinking Coke at the carnival, and so forth.
Fill large basins or pails with ice and glass bottles of coke – not only is it oh-so retro chic, it's alto the perfect way to cool down guests on a scorching hot summers day.
Use metal Coca-Cola bottle caps as napkin ring decoration, mini place cards or as embellishment on other stationery elements.
Collect empty glass coke bottles, fill them with a variety of freshly picked flowers and use as vintage and rustic chic table decoration.
Try to get your hands on a couple of wooden vintage crates, branded with the Coca-Cola logo. These crates can be used in all sorts of creative ways – as decoration on the guest tables, as mini shelves for treats or as serving trays.
Use mini bottles of Coke as combination guest favours and place cards. Simply tie each guest's name tag around the neck of the bottle, along with a striped red and white straw, and place next to his plate – a welcome sight indeed!
Surprise the grooms men with Cokes instead of the customary beer (to keep them sharp) and have the photographer on hand to snap a picture or two.
To further complement the use of Coca-Cola elements, play around with the signature brand colours – white and red. This bright and joyful colour combination has so much to offer in terms of flower options (roses, gerberas, lilies…) dessert table goodies (cherries, candy canes, soft serve…) and festive décor bits (Chinese lanterns, streamers…) that you won't know where to stop!
For more Coca Cola Wedding ideas, the original photos above and their credits, make sure to check out our Coca-Cola Wedding Pinterest Board!