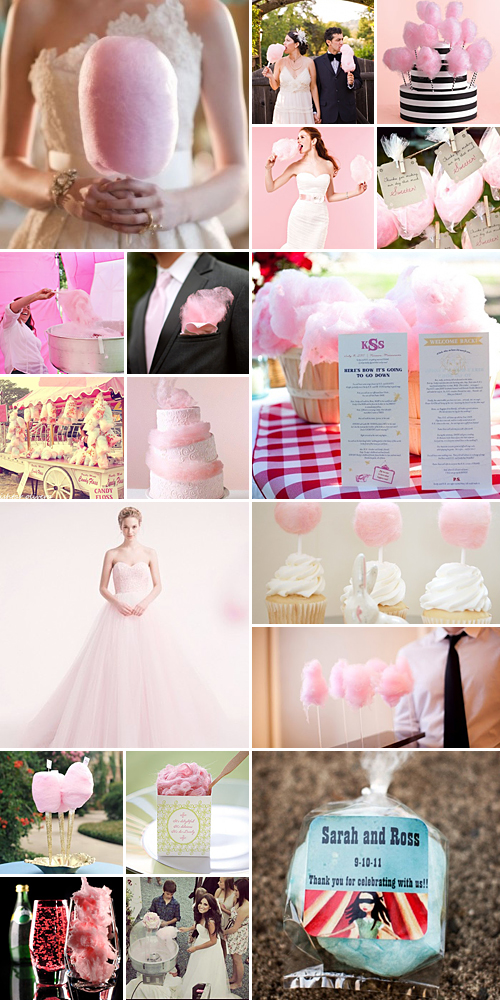 Whether you love carnivals or whether you hate them, the one thing no one can pass up is a mouthful of wispy and wonderful candyfloss. The cotton candy theme draws its inspiration from the sweet taste of candyfloss, its light pink colour and the feather light character of this much-loved treat.
White and pink stripe candy shop designs are a must for this theme, whether it be used on the stationery or the wedding venue walls. Furthermore, the soft feminine colour can be complemented with dashes of chocolate browns or even black to crank up the drama.
Rent a cotton candy machine or cart where guests can munch and nibble to their heart's delight, and be sure to send them home with big clouds of candyfloss packed in plastic bags.
Take a stick of cotton candy along on your photo session for an extra touch of sweetness. Also be sure to decorate the wedding cake with bits of candyfloss or alternate between layers of cake and layers of the sweet stuff.
Dress the flower girl and bridesmaids in flowy light pink chiffon or tulle dresses, or opt for a rose or light pink bridal gown.
Choose soft full flowers that are reminiscent of candyfloss – for instance, pink peonies, hydrangeas, baby's breath and ranunculi.
Pink cotton wool is the perfect "mock cotton candy" so be sure to place pink cotton balls in the restrooms for that added touch of whimsy.
Decorate the venue with plump pink helium balloons, large cushions, comfy bean bags and soft pink draping.
Suspend light pink Chinese lanterns from the ceilings and chandeliers as well as clouds of real pink cotton candy or dyed cotton wool.
For more Cotton Candy Wedding Ideas, the original photos above and their credits, make sure to check out our Cotton Candy Weddings Pinterest Board!