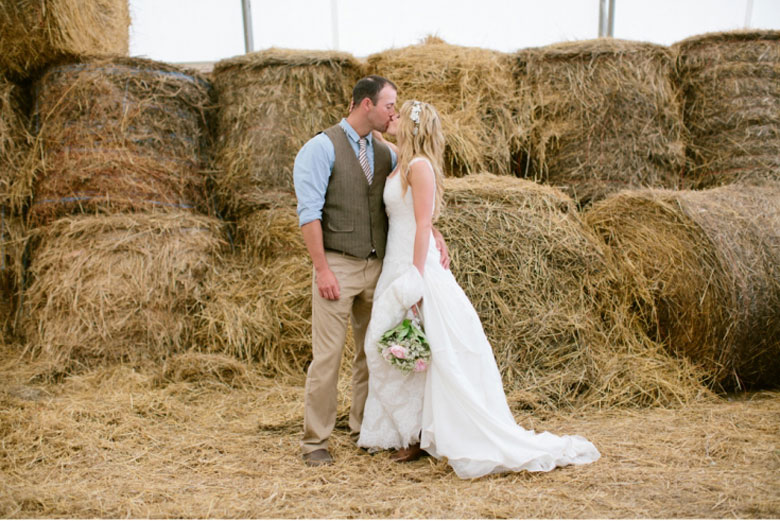 South Africa is a country of incredible beauty and natural splendour. Indeed, it is the idyllic location for a true country wedding for brides- and grooms-to-be that want to take advantage of the gorgeous vistas of this land. Accomplishing an authentic country look and feel is quite simple and can work out to be cost effective, especially with a little creativity and innovation.
Invitations
The invitations set the wedding scene for those you invite, so ensure that your country theme is communicated effectively via these. For a more traditional approach, simply use country-style images and prints on your paper invitations; such as gingham, camouflage print, wild flowers, wagons wheels, or a photograph of the beautiful countryside. Alternatively, be creative and send guests tiny pots of honey or home-made jam with your wedding invitation attached. You could even send them a straw hat with the invitation inside, and request that they wear this to your wedding, creating a sense of fun and participation.
Attire
Regardless of your theme, it is important to wear something that is both comfortable and suitable to your personality and taste. A country wedding implies a slightly more laid-back, natural approach to attire. Therefore, as the bride, you could consider a looser, flowy style of dress. The focus should be on natural femininity and comfort.
The groom can opt for an informal day suit with an open shirt, or simply a good pair of jeans and a printed shirt for a really outdoorsy feel. Alternatively, have fun with shorts, braces and wellingtons for a really different look.
Arrive on a tractor or horse carriage, or in an old, rusty car.
Hair and Make-up
Because the country is all about appreciating the natural fauna and flora of your surrounds, you want your personal beauty to radiate in a natural way too. Keep your hair healthy and your roots well touched-up, but consider having it loose or in a soft style that frames the face, rounded off with wild flowers in your tresses. Make-up should also enhance your features without looking heavy or caked on. Use colours from the outdoors if your complexion allows.
Venue
The best venues for country-themed weddings are barns and old farm houses, as these exude that country flavour in their very structure and functionality. These can sometimes be hired for just such an occasion. Otherwise, ask friends and family if they know of someone with a home on a farm or smallholding. The most effective venue is, naturally, outdoors. However, weather may not allow for the entire ceremony and reception to be enjoyed here. Always have a Plan B in case of bad weather.
Décor
When it comes to a country theme, there really are so many elements that can be used as décor to create the look you desire. For your centrepieces, consider using water cans, glass milk bottles, tin cans or old gardening boots filled with wild flowers (such as heather, daisies or sunflowers), grasses and feathers.
Have guests sit on hay bales or mismatched wooden tables and chairs, eating off aluminium crockery, complete with dents and rust spots for that authentic touch.
Other décor elements can include:
Wagon wheels
Scarecrows
Fruit baskets
Bees, dragonflies and butterflies
Apple crates
Oil lamps
Lace doilies
Put a big jug of home-made ginger ale or lemonade on each table, along with fresh fruit (such as strawberries, figs, melon and kiwis) to cleanse the palate between courses.
Consider presenting your home-made wedding cake on a wheelbarrow or a stack of fruit crates to set it apart from the traditional customs.
Guest Favours
This country experience alone is likely to be very memorable for your guests. However, if you would like to give them a small token of your appreciation, consider the following ideas:
Tie a "thank you" note to fresh, wrapped honeycomb.
Give each guest or couple a small pot filled with soil and complete with a packet of seed, so that they can watch their plant grow as your marriage does.
Hand out pairs of colourful wellingtons. Although this may be costly, these shoes will last a long time and are practical for almost everyone.
Make a batch of fruit jam or nut brittle, place it in a small glass jar for each guess and finish it off with raffia tied around the top for a practical, cheap and fun guest favour.

Photo Credit: blog.marydougherty.com