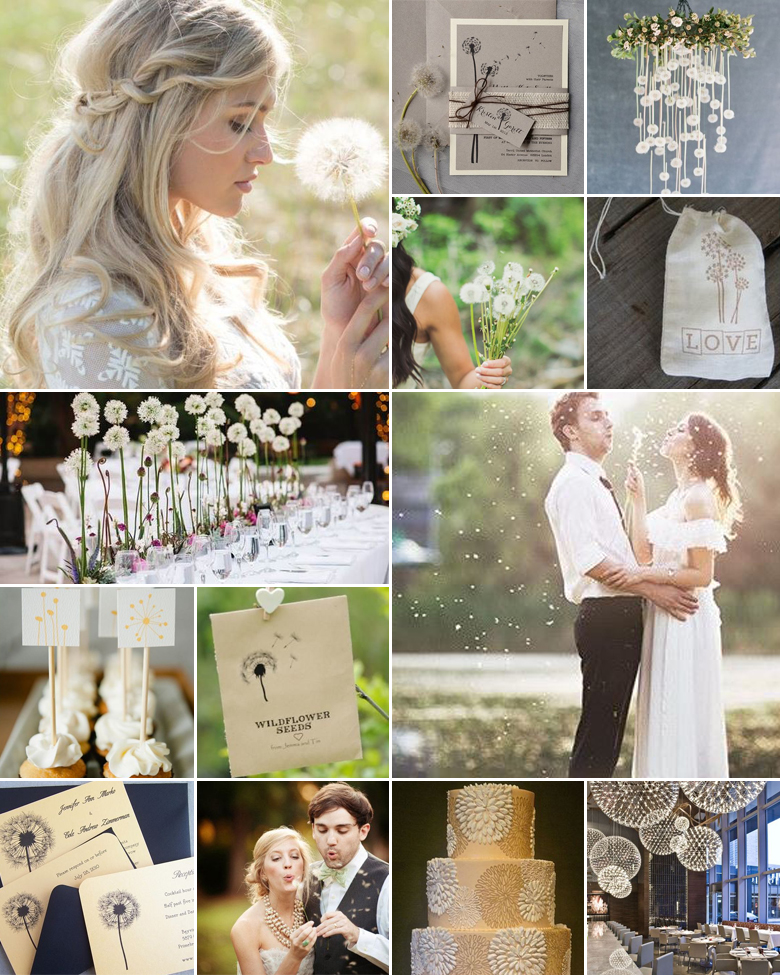 We've been talking a lot about lucky charms and happy wishes over the last two weeks, and dandelions fall squarely into this category. Legend has it that, when blown in the wind, you can make a wish and it's almost guaranteed to come true. So if you've wished for the perfect wedding day, this theme is for you:
Have silver or white dandelions embroidered on your wedding dress and other elements like the napkins, table runners and so forth – elegant, simple and oh-so delicate!
Decorate the wedding cake with fondant dandelions and cute little cake toppers.
Let the dandelion inspire your wedding stationery! You can also invest in a dandelion ink stamp to further your theme without breaking the budget.
Find chandeliers that mimic the shape of the dandelion.
Instead of confetti, give each guest a dandelion to blow as you leave the ceremony venue.
Incorporate the dandelion flower in your bouquets and centerpieces.
Draw inspiration from the unique shape of the dandelion to create pomanders for your big day, and hang them from every place imaginable.
Soft comfy seats and poofs or a candy floss machine are the ideal way to complement the soft whimsical nature of the dandelion.
Add soft textures to your wedding gown or bridesmaids gowns to further complement the theme.
Use dim white lighting to set the mood at your reception.
Decorate the venue with silverish draping to further add to the illusion of the dandelion.
Original images and their credits available on Pinterest