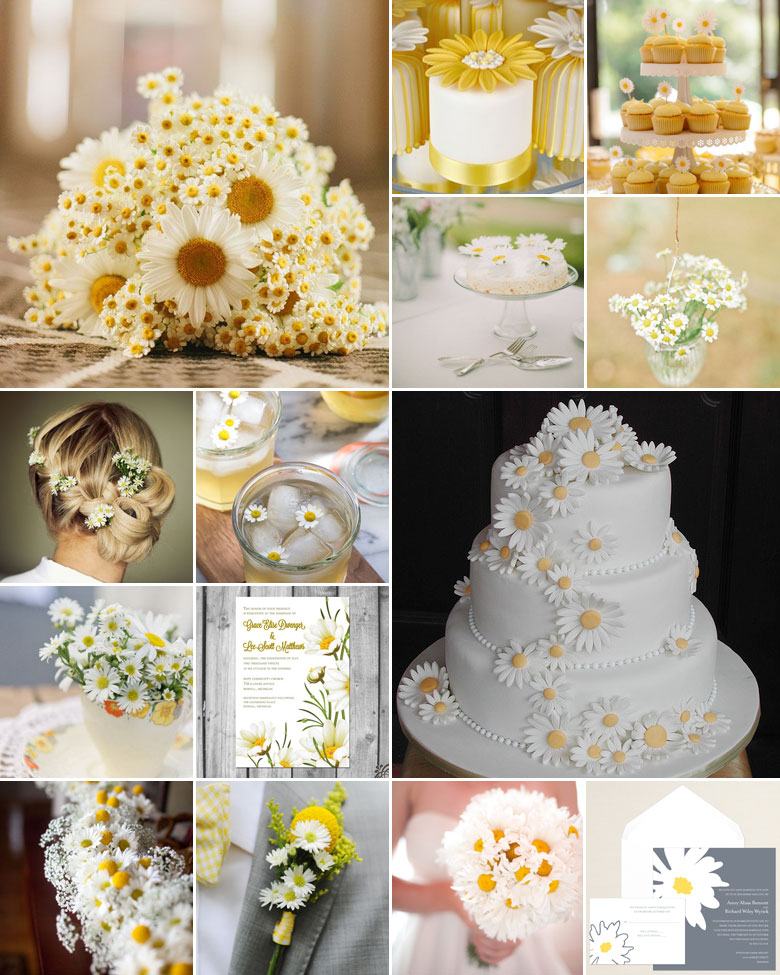 "Daisy, Daisy, give me your answer do.
I'm half crazy all for the love of you.
It won't be a stylish marriage,
I can't afford a carriage.
But you'll look sweet upon the seat
of a bicycle built for two..."
Daisies are possibly one of the most popular flowers today! With so many variations to choose from, opting for a Daisy themed wedding gives you the opportunity to have fun with these beautiful and bright flowers.
Here are a few ideas to get started with your Daisy wedding theme:
If you are looking for a little more colour than the standard white and yellow daisy, make sure to check with your florist about Gerbera / Barberton Daisies as these come in a wide variety of colours.
If you are looking to be a DIY bride, this theme is for you. One of the first pictures we learn to draw as kids is a daisy, so opt to getting creative in your wedding invitations by you and your partner drawing out a few daisies for your wedding invites. Alternatively, you could have a dried daisy on your envelopes or front of your invitations.
With their long stem, instead of wearing a tiara, you can make your very own headpiece by attaching a daisy or daisies to a comb or headband. With a few more accessories such as beads or crystals, you can round the headpiece of to something really cute.
For your wedding favours, wrap up some chocolate bars or your custom designed / drawn / printed wrapping paper. Other options include cutting paper into daisy shapes and sticking them onto bottles of bubbles or bubble bath.
Some great decor ideas for the daisy theme include:

Place some water in a glass bowl followed by some yellow food colouring Float daisies and daisy candles in the water.
Add galvanised watering cans to the center of your tables that have a been filled with daisies – this is a very CUTE look!

For your bouquets, you can get colourful by having your bridesmaids use different colours daisies while you, the bride, uses the large white Gerbera to compliment your wedding dress.
Tip: Make sure to speak to your decor company and / or florist about the different types of daisies available.
Original images and their credits available on Pinterest