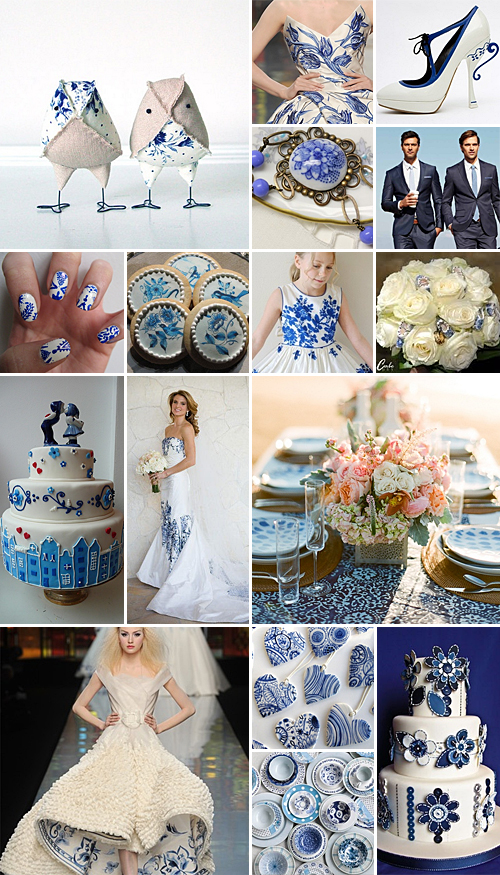 The word "delft" is generally used to refer to English or Dutch tin-glazed earthenware, typically decorated by hand in blue on a white background. However these days it mainly refers to the exquisite hand-painted design – one that's inspired many a wedding dress and serving plate over the years, and is coveted by both bride and groom.
Getting your hands on a large quantity of delft inspired décor elements could be somewhat of a challenge, but due to the detailed nature of the delft design, you only really need touches of delft to pull it off with flair. To keep it simple and classy, complement the delft elements with a combination of monotone white and blue pieces – this will ultimately ensure that your reception venue looks more like a contemporary art fair than a cluttered thrift shop.
Enlist an artsy cake designer for a delft hand painted wedding cake or custom made cupcakes which can double as guest favours – almost too pretty to eat!
Choose blue and white hydrangeas as your wedding flowers to complement the blue and white delft design.
Browse the shelves at second-hand and antique stores for little ceramic delft figurines and dainty cups to use as part of your centre pieces and décor.
Keep an eye out for delft plates and crockery on which to serve the main course. Alternatively, if the budget doesn't allow for the real thing, alternate between plain blue and white plates for a simpler overall look.
Serve cold drinks in royal blue glassware and hot beverages in chunky white ceramic mugs.
While we love the idea of delft bridesmaid dresses, this might not be feasible. Instead, dress the bridesmaids in blue dresses with white shoes and don a pair of bright blue shoes with your crisp white wedding dress.
Dress the groom's men in blue denim or cotton shirts, and complete the look with touches of white and soft grey.
To enhance the homely feel of delft, add plenty of lace and embroidery to the occasion – for instance, handmade fabric hearts in the ceiling or blue and white embroidered handkerchiefs for the ladies.
If you have an artistic friend, ask him/her to paint a delft backdrop for your photo booth to transport guests back to historic Holland.
When night time falls, add a touch of colour to the otherwise white surroundings with blue lighting.
For more Delft wedding ideas, original photos above and their credits, please check out our Delft Weddings Pinterest Board!