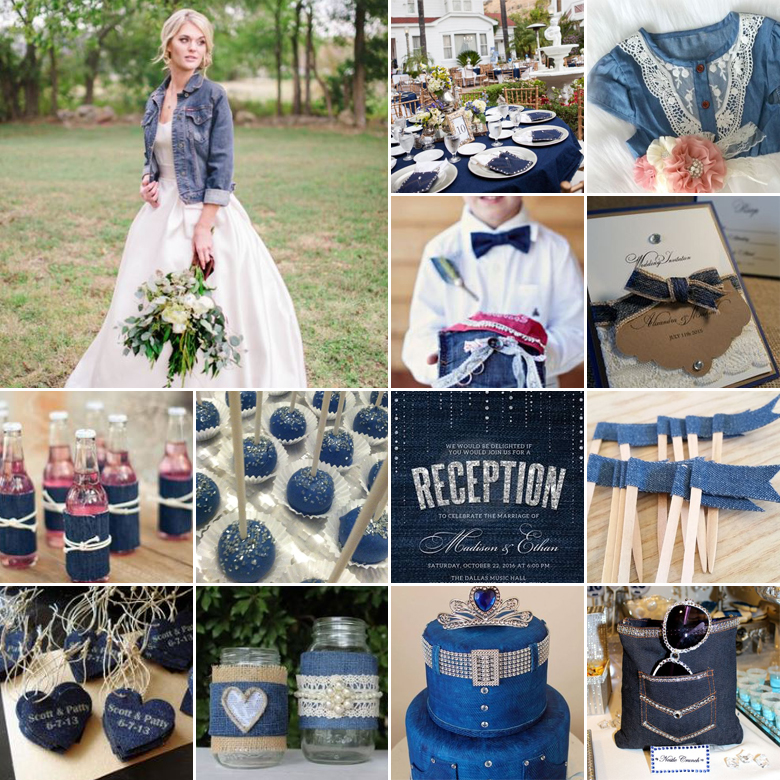 Denim has never let you down, so why should it on your wedding day? While we don't recommend rocking up in a pair of jeans, there are many ways to incorporate some denim into your big day:
Put a chic country spin on it and encourage the bridesmaids to wear denim jackets with their bridesmaid's dresses.
Decorate the tables with denim table runners, or make little denim pockets for the cutlery.
Dress the groomsmen in classy dark denim shirts with their suits.
Instead of adding denim to your wedding ensemble, simply add touches of dark blue in the form of nail polish and shoes.
Make fabric flowers out of denim and add that to your bridal bouquet and table decorations.
Alternatively, turn the denim flowers into striking brooches for the bridesmaids and female guests.
Cut up your old jeans and make bunting out of denim to add just the right amount of street elegance to your day.
Ask the wedding cake designer to use denim as inspiration for the cake, or choose cake toppers wearing jeans.
Wrap strips of denim around glass jars for elegant yet practical vases.
Original images and their credits available on Pinterest