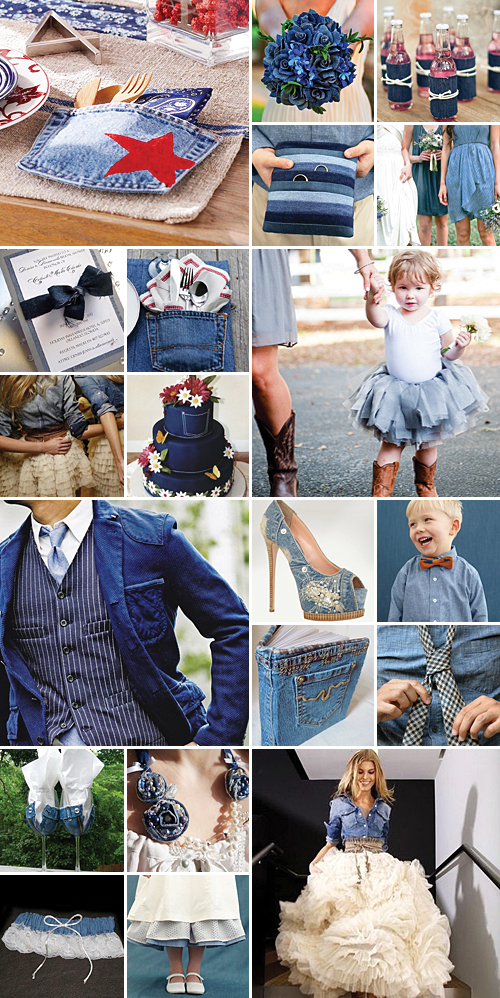 You wear it to work, you wear it when you go shopping, you wear it out, you wear it in and maybe you even wore it on your first date with hubby-to-be! So why should this bestie of yours not have a place at the wedding? This is your chance to re-re-recycle hand-me down denims and jackets that are just so last season.
Adding denim to the occasion requires a fair amount of finesse and the good sense to know when enough is enough. Pair the fabric with soft trimmings like lace, chiffon and netting, and tailor the denim to suit your unique style – for instance, bleach it, colour it, tear it, unravel the edges or use a cheese grater to make it look a little worn. And then the real fun can begin…
For a laid-back affair, allow hubby to dress up in fancy jeans and a dashing jacket, and instruct your male guests to don a pair of their favourite denims.
For a country girl look, dress your bridesmaids in pretty knee-length dresses, denim jackets and boots. Later on when the air gets nippy, consider slipping on a denim jacket of your own over your wedding dress.
Turn old scraps of faded denim into bunting. Unravel the edges and feel free to add a couple of stitches and bright little patches just for the sake of it.
Use strips of denim as ribbon to tie around the bouquets, chair backs, napkins and wherever else you'd generally use ribbon.
Choose blue flowers that appear as if they might just well have been stitched out of denim – for instance, delphiniums, hydrangeas and cornflowers.
Purchase denim by the meter from your local fabric store and make your very own place mats and chair cushions. If you have extra time on your hands, embroider each guest's name onto his or her chair cushion which can then serve as guest favour to boot.
Incorporate the signature jean pockets into your wedding day décor and stationery, for instance attach a pocket to the napkins to hold the place card and favour.
Wrap a piece of denim around a recycled jar or tin to make cost-effective denim flower pots.
Decorate your stationery with the metal studs that are generally found on jeans and use a printed stitch design to decorate the edges of the paper.
For more ideas on a Denim Wedding theme, the original photos above and their credits, make sure to check out our Denim Wedding Theme Pinterest Board!