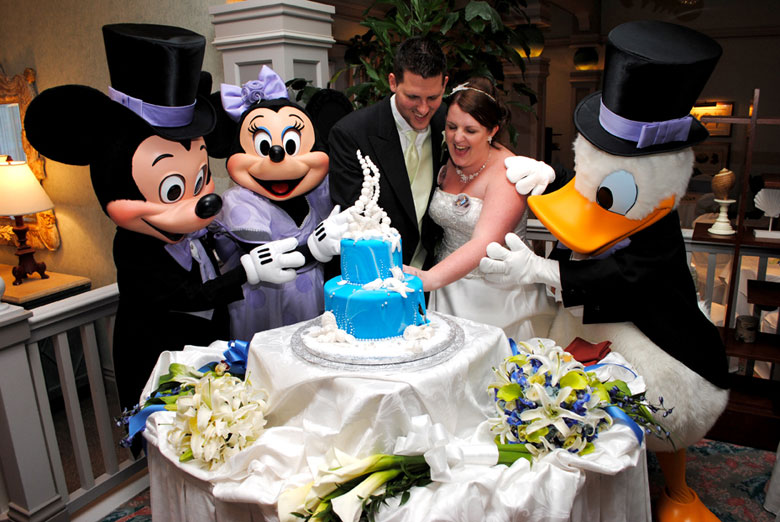 Read any wedding planning book or website and you're sure to find the word "fairytale" somewhere in there. And that's exactly what a wedding should be– a romantic story of classic love and a happy ending; told in your own, unique way. Create your very own fairytale by using this as a wedding theme, inviting your friends and family to participate.
Decide whether you want a general fairytale theme or if you would prefer to choose a specific fairytale and fashion your wedding around that. If this is the case, you should choose a story that has something in common with your real-life story. Then, carry it through to your dress, transport, décor and guest favours.
Invitations
To set the scene, send out real fairytale invitations. Some ideas include crowns and tiaras, scrolls or unique personalised books telling the tale of your romance. If you prefer a more conventional invitation style, use lots of colours, glittery effects and fairytale characters as the imagery on the invite.
Attire and Accessories
Specific attire depends on whether or not you have chosen a specific fairytale. Of course, the obvious choice for the bride is a real ball gown, complete with long gloves and a tiara. This need not be white, but can also be light pink, lilac or blue. For the authentic deal, take a picture of Cinderella or Beauty in her gorgeous dress to your designer. For something like The Lion King or Finding Nemo, you'll need to be more creative with your gown. Consider animal prints or brooches of the cute characters. Imagine blue and yellow striped heels (Nemo) or a fascinator with Minnie Mouse ears attached.
The groom's attire should be inspired by the quintessential Prince Charming. Alternatively, a black tuxedo with cute accessories (such as Shrek ears) works beautifully too.
Have fun with the entourage. Dress them as the Seven Dwarves or a host of little birds and butterflies that flutter around the couple. The flower girl and ring bearer can be really sweet in complete fairytale character costumes. An added bonus is that they will love these outfits and are much more likely to cooperate.
Venue and Décor
If possible, choose a venue that conveys the fairytale theme. Whether it is a castle, mansion, game park or even an aquarium, having the right venue will go a long way in establishing your theme. In terms of your décor, there are plenty of opportunities to be creative and playful with your theme. Use these ideas for décor inspiration:
Plenty of candles and candelabras.
A red carpet (or a white carpet for a dreamier look).
A horse and carriage, and the imagery that goes with this.
Plenty of pastel-coloured flowers.
White feathers on the aisle, tables and dance floor.
Ice sculptures and helium balloons of various cartoon characters.
Music
Fairytales are renowned for their catchy theme tunes. Use these as you walk down the aisle, enter the reception venue and enjoy your first dance. Some romantic options include:
I'm a Believer – Shrek
You Belong to Me – Shrek
True Love's First Kiss – Shrek
Hakuna Matata – The Lion King
Can You Feel the Love Tonight? – The Lion King
A Whole New World – Aladdin
Kiss The Girl – The Little Mermaid
A Dream is a Wish Your Heart Makes – Cinderella
Somewhere Over the Rainbow – The Wizard of Oz
Photo Credit: magicaldayweddings.com