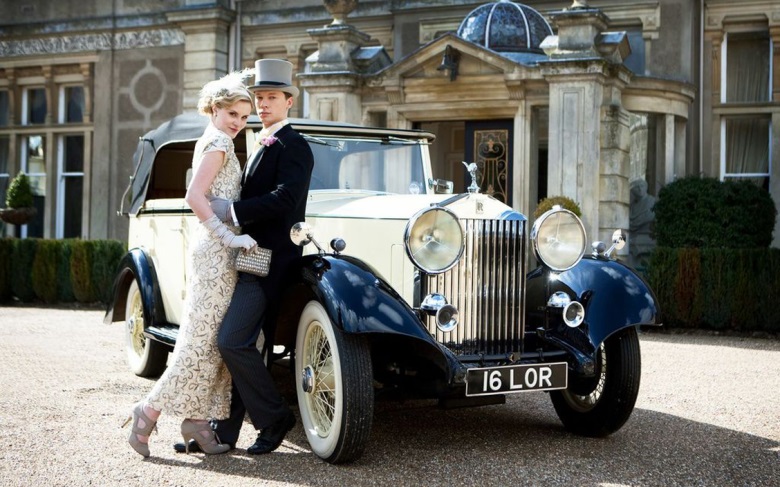 The 1920's was an era known for its flashy parties, the emergence of jazz, shorter dresses that enhanced a boyish figure and a general ambience of joviality and even frivolity. It was also known as a time with a particularly high crime rate, when the Mafia first emerged and everything was about money and status. A 1920's wedding is a fabulous way of celebrating your union as it is sure to set the party scene and get the guests into the swing of things.
Invitations
The first opportunity that you have to get guests into the 1920's theme is your wedding invitation. Be sure to design it in a Great Gatsby or Mafia style, for example, and inform the guests of the theme, encouraging them to dress accordingly (if you want them to follow through with the theme). In addition, consider asking the recipient of the RSVP's to remind guests of the theme, so that it is reinforced for them.
Attire
Of course, the clothing and accessories will be the most effective means of creating your theme. For the guests and bridesmaids, straight, calf-length wedding dresses with low waistlines and plenty of sparkle are the order of the day. Seamed stockings will complete the look perfectly. A popular fad was to have a shorter hemline in the front than at the back, as well as pleated skirts. Vintage dresses are available online or in various local antique stores, but may require a committed shopping spree to source. Be patient; finding the perfect piece is worth it.
Men should wear zoot suits, which are high-waisted trousers with wide legs and tight cuffs at the bottom, worn with a long-tailed coat. Suspenders and English driving caps will add the perfect finishing touches.
Accessories
Feather boas, long pearl necklaces, headbands, diamonds, lace and birdcage fascinators are the perfect wedding accessories to your 1920's-themed wedding.
T-band shoes with a small heel are a great choice. The 1920's were defined by the addition of pretty straps to shoes and a more pointed toe. Keep this in mind when shopping for your shoe. Vintage and costume jewellery, bold colours and oversized stones were also popular, not limiting you to long pearl strings.
Hair and Make-up
In the 1920's, women adopted a more 'tomboy' look, cutting their hair and using products to make it sleek and shaped. The bob emerged during this time, either with bangs or swept off the forehead. This applied whether hair was curly or straight. Longer styles were still slicked down using gels and arranged low in the neck, topped with feathered headbands or pearly clips.
In terms of make-up, the 1920's saw the advent of the Cupid's bow lips, where bold colours were used to create a lip shape that was fuller and poutier than the actual lip. The width was reduced and the fullness increased. Foundations developed to reflect more natural skin tones. Eyes became a feature and were made dark and mysterious with the use of mascara and eyeliner. Colours like green and turquoise were introduced into facial make-up too. Eyebrows were fairly thin and delicately shaped. Interestingly, the nails were only painted in the centre, leaving the tips and the half-moons at the base uncoloured.
Music
The 1920's were the time at which jazz became a popular and respected form of music. Dances like the Foxtrot and the Waltz were favoured and Broadway had emerged, providing fantastic, well-known pieces that have remained popular to this day.
Food and Beverages
Consider the following menu items for your 1920's menu:
Gin and Tonic
Champagne (and plenty of it)
Champagne Punch (tea, sugar, soda water, brandy, rum and champagne)
Bourbon
Foil-covered chocolates in the shape of liquor bottles
Chocolate-covered cherries
Chocolate-covered fudge
Devilled eggs
Cabbage rolls, stuffed with spicy ground beef and rice
Sweet, sticky barbecued ribs
Rice pudding
Ice cream
Banana splits with jelly
Angel food cake
Décor
The 1920's were about going 'all out' to create a dramatic event. Ostrich feathers, lights, and anything that glittered were top on the list of décor. Black, white and red was a popular colour scheme. There was a distinct blending of art deco and feminine classicism. So, bright red roses were placed within a modern black and white checked setting to create a unique, effective display. When planning your décor, consider watching the Godfather movies or the Great Gatsby to get a good idea of the types of furnishings, colours and styles that were popular.
Transport
The Model T Ford was the car of the 1920's. Sourcing one of these would create the perfect effect for your theme. Other famous brands included the Buick, Whippet, Chrysler, and Dodge.
Photos Credit: www.5starweddingdirectory.com