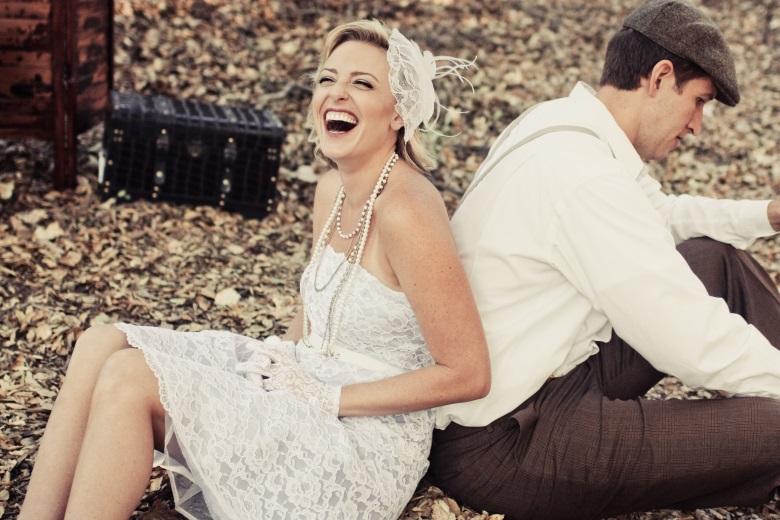 The decade of the 1930's was an interesting one. It began with a bang after the roaring 1920's, during which the people were optimistic and jovial. However, by the end of the 1930's, the tragedy and sadness of World War II was in full swing. This, like the decade preceding it, was a time of crime, although such crime masters as the Mafia were romanticised, particularly as Hollywood began to boom during this era. This was also a time of poverty or financial difficulty, particularly as Wall Street had crashed in October of 1929. This meant that fewer people had access to luxury items in terms of food, education, transport or clothing. Having a 1930's themes wedding allows you much creativity and flexibility, and is sure to get your guests actively involved.
Attire
The 1930's saw women reverting back to an appreciation for their feminine forms, rather than rebelling against them. Ensure that your wedding dress and those of your bridesmaids emphasises the natural curves of your bodies and flatters the bust with its tailored, whimsical cut. New fabrics were developed at this time, but silk remained the best fabric for the matchless way that it falls. Comfort became paramount as women began entering the workplace. Sequins, glass beads and other embellishments were common. The halter neck and cowl neck were also developed during this time. Full length backless dresses that were cut on the bias drew more attention to the female form than ever before. Shop for original pieces online, scour antique shops, or get a dressmaker with a real sense of what you want to create your perfect wedding dress.
Men's clothing items were made to cause their bodies to look larger, manlier, than they really were. This was done with shoulder pads, tapered sleeves, double-breasted suits and jackets that formed v-shapes on the chest. Trousers were wide and suits were usually in muted greys and blues.
Bridal Accessories
The 1930's gowns were usually finished off to perfection by a pair of elbow-length gloves. More casual day dresses were better suited to fabric, lace or leather gloves that came up to the wrist. It was also imperative during this time to match your shoes, gloves, hat and bag.
Any occasion warranted a hat, which was usually tilted to one side and embellished with feathers, netting and brooches. A modern bride may opt to carry this through with an elaborate fascinator. Men, on the other hand, wore felt hats that were creased down the crown.
Men also wore neckties that boasted bold stripes and geometric shapes.
Hair and Make-up
At the beginning of the decade, short hair was still very much in fashion. However, women soon wanted to embrace their femininity again and began to have a longer, more natural look. Curls were very popular, and were allowed to fall around the face. Alternatively, longer hair was piled on top of the head. Large, full curls were used. Men's hair was short and very well kept, while moustaches were considered to be very fashionable indeed (unlike beards).
Very thin eyebrows were in, and were sometimes shaved entirely and replaced by ones drawn on with a pencil (we are not recommending this look for your wedding!). Ivory or pale foundations were complemented by light rosy blusher. As the decade came to its close, slightly darker rouges were used. Eye colour became more daring, offering women blues, purples, greens and browns, as well as shimmery shades for more dramatic looks. Eyelashes were frequently false and often paired with a nude eyelid, covered only by Vaseline to achieve a shiny look. Lips were wider than in the 1920's, but there was still the emphasis on making them appear fuller than they were. Light and dark reds and pinks characterised this period.
Food and Beverages
Because of the general lack of money during this time, the food was not as elaborate as before. Some ideas for your wedding menu include:
Tomato juice cocktail
Ginger ale
Bourbon
Scotch whiskey
Fruit punch
Small sandwiches
Rolled toast with mushrooms or asparagus
Cheese puffs
Devilled olives
Sausage snacks
Canapés of smoked salmon
Dried beef snacks
Scalloped oysters
Jellied fruit
Chocolate drop cookies
Roast beef with Yorkshire pudding
Peaches and cream
Ice cream
Butter balls
Petit fours
Peanut brittle (fabulous for a guest gift)
Gingerbread
Music
The jazz fad carried over from the 1920's into the 1930's. However, a new trend emerged, which eventually became the 'swing era'. This meant that traditional jazz music was transformed by adding a much faster beat to it, encouraging people to get up and dance. Use this to your advantage and get your guests on the dance floor with some well-known Glenn Miller pieces.
Décor
The dark, sordid underworld of the Mafia provides plenty of fun wedding décor options for your big day. These include black and white photographs of Al Capone and famous gangsters from the Godfather movies, as well as vintage suitcases, machine guns and heavily embellished furnishings. On the other hand, the 1930's were also an important time in terms of aviation. Use compasses, maps and images of aeroplanes from that time to create an authentic 1930's look and feel. Hollywood too was beginning to emerge at this stage. Celebrate your day by immersing yourselves in all the glitz and glamour of the earliest stars.
Photo Credit: http://rusticweddingchic.com/