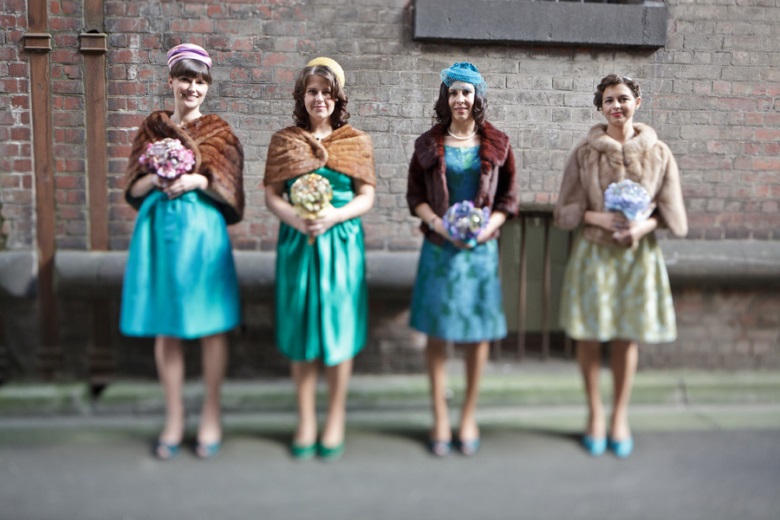 The 1950's were an exciting time of rebellion against the oppression and suppression of the war years in the preceding decade. Rock 'n roll entered the scene and took the world by storm, encouraging the youth to question everything that they had come to accept in previous years. This translated into more daring fashion, movies that stood up in the face of tradition and music that was labelled as demonic by the conservative generations. The distinctive entertainment and fashion of the day make for a fun wedding theme. While organising your 50's wedding, think Marilyn Monroe, Elvis and Grease for great inspiration.
Bridal Attire
The 1950's followed the post-war depression. This meant that society craved more luxury than ever before, since they had been deprived of it for so long. Gloves and pearls defined the elegant look of the 1950's women. Older, more conservative women opted for pencil skirts, while the younger generation began to don wide skirts that moved and flared as they danced. Sleeveless satin dresses were also particularly common during this decade. Bobby socks, white T-shirts with rolled up sleeves, polka dots and cuffed jeans were all part of this very unique era. Women also wore long shirts with a narrow belt in the waist and boleros, which are nicely incorporated into your bridesmaids' and guests' outfits.
The groom and groomsmen will look the part in leather jackets, cuffed jeans and khaki trousers, or narrow-cut suits for a more formal look. There were two main trends in men's clothing during the 50's – one was toward the typical 'cool' rock 'n roll look, while the other focused on looking as smart and neat as possible, not paying much heed to comfort. Plain coloured flannel or wool suits were very important to the businessman of the era.
Bridal Accessories
Stilettos and patent leather shoes emerged as some of the hot favourites during the 1950's. Saddle shoes were also very 'in' and may be fun for both the bridesmaids and the groomsmen. These are usually a mixture of black and white leather, with a flat sole and laces – perfect for jiving the night away. Bobby socks were frequently worn with these shoes. Other popular accessories were large handbags and dainty gloves.
Hair and Make-up
When deciding on your hair and make-up, watching films from the 1950's is sure to give you the best ideas. The bouffant was a popular 50's hairstyle, as was anything with a curl. Hair was not worn particularly long, but kept short and bouncy. For a more formal look, consider a short rolled fringe with some of your curls pinned up and secured with a bow or pearl clips. Another style that emerged in a huge way in the 50's was the high ponytail. Men's hair was generally short and neat, as it had been in the war. The younger guys sported ducktails and plenty of grease in their locks, together with impressive sideburns.
This era was the time at which colour television entered the homes of the consumer. This made people more aware of on-screen make-up and caused huge fads. Foundations were used to create an absolutely flawless finish, just like the 'stars', and eye shadows and lipsticks became bold and brightly coloured. This only lasted a few years, until women preferred the slightly more natural look. This meant that bright colours were toned down a little or that bright lipsticks were worn with nude eyes, for example. Bright red lipstick and nail polish was very popular, as was liquid eyeliner and circular applications of pink rouge on the cheeks.
Décor
Consider the following décor elements to create your perfect 1950's themed wedding:
Soda fountain
Pink and black colour scheme
Patent leather
Posters of rock 'n roll legends like Elvis, Johnny Cash and Jerry Lee Lewis
Jukebox
Drive-in screen
Food and Beverages
Drive-through outlets and fast food began to take over the youths' diet, particularly in America. Consider serving root beer floats, Coke floats, milkshakes, cheeseburgers, fries and Coca-Cola in glass bottles as part of your wedding feast.
Music
The 1950's were a time of diverse, fun and daring music. In fact, the rock 'n roll and the jazz of this time have remained some of the most prominent treasures of the era, marking a distinct movement of rebellion and adventurism. Include the following in your playlist:
Bill Haley
Bo Diddley
Buddy Holly
Chuck Berry
Elvis Presley
Fats Domino
Jerry Lee Lewis
Johnny Cash
Little Richard
Ritchie Valens
The Drifters
The Everly Brothers
The Platters
The Silhouettes
Photos Credit: http://www.thedandelionpatch.com/