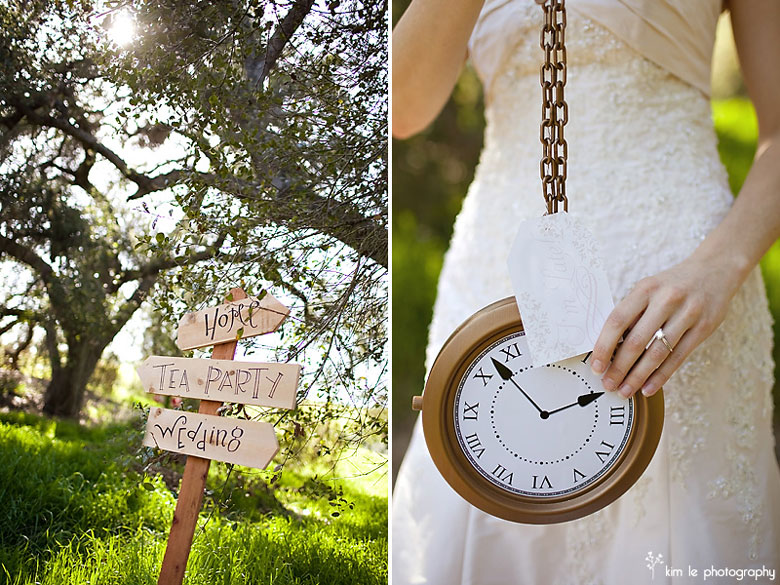 Alice in Wonderland was a firm childhood favourite for many of us, enchanting us with its dreaminess, vibrant colours, and a little touch of craziness! Brides- and grooms-to-be that want to incorporate this unique, fun theme into their wedding day have the opportunity of ensuring that their day is completely unique and ultimately memorable. Rather than formal theme colours, your invitations, décor, etc… would be defined by lots of bright colours as well as the elements found on playing cards (red and black, hearts, spades, diamonds, and so on). Try to get some different illustrated versions of the book from second-hand shops or online to get a varied perspective on the different design elements available to you.
Invitations
The key to establishing an effective wedding theme is to ensure that your invitations communicate this theme to your guests so that they are able to play their part in making it work. Therefore, consider the following ideas for your wedding invitations:
Attach your wedding to a playing card, or have custom cards made up with the invitation on the back.
Invite your guests to your "unwedding" and attach a teabag or a colourful hat to the invitation.
Print your invitations along with or on a set of croquet rules and invite your guests to join the king and queen for a game.
Have miniature Cheshire cats made (knitted or felt) and tie your invitation around their necks. This is a delightful keepsake, especially for the invitees with children.
Attire
Get your guests to dress up as characters from Alice in Wonderland, or hand out pairs of rabbit ears or top hats as they arrive at the reception.
Décor
Teapots, teacups, playing cards, pink flamingos, and white rabbits are definite 'must-do's' in terms of venue décor. Consider fashioning the entrance to your venue to resemble a rabbit hole (bearing in mind that larger people and the elderly may have to squeeze through). Include colourful tea sets throughout; combining miniature sets with giant ones (get creative with plant pots and watering cans, if necessary).
Chess pieces and playing cards also make great décor elements, so include them as place names, cake toppers, or in the floral bouquets that you and your bridesmaids hold. Replace the traditional boutonniere of the groomsmen with playing cards sticking out of their jacket pockets.
Put chairs of different heights together, so that some guests sit much lower than others, while certain of them tower over the rest.
Centrepieces on the tables can be created using stacked tea cups and teapots or one of the famous characters from the story perched on a giant toadstool in the centre of each table. Alternatively, create a different scene from the movie on each table. So, for instance, one table may be decorated for the "unbirthday" party, while another may include the looking glass and white rabbit motif.
Have hand-painted signs that direct your guests "that way" or "this way", while many different clocks should be scattered around the venue, all stopped on different times.
Guest Gifts
Consider the following ideas for great guest gifts:
Colourful cupcakes
Herbal tea in a personalised glass jar
Ceramic toadstools with your note attached
Giant caterpillars or white rabbits
A teacup and saucer or a teacup and teapot combination
A looking glass
A pink flamingo
A set of playing cards
Photo Credit: www.kimlephotography.com