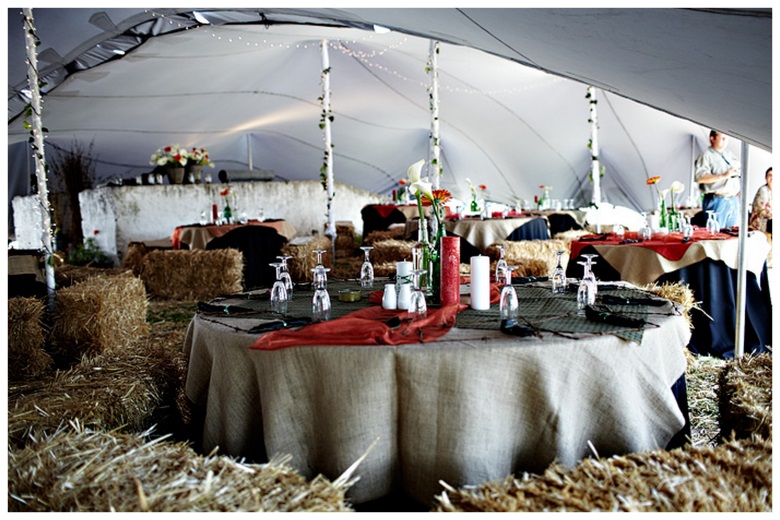 Farms can be absolutely idyllic settings in which to host your ultimately romantic wedding day. The beauty of nature, the smells of fresh flowers and wild grasses and the warm sun resting on your affair paints a whimsical picture of flirty romance against a relaxed backdrop. Although there are plenty of décor options for your farm-themed wedding, the location alone creates an effective theme, giving you the option of minimising your décor and relying more on the farmyard elements around you.
Although a farm-themed wedding need not necessarily be held on a farm, this certainly will make your theme more effective. Ask friends, family members or local farmers if they would be willing to let you use their farm for a fee. In some places, farmers actually subsidise their income by hiring their land out for just such events. You will need to take the following things into consideration:
You may need a liquor licence to sell alcohol to guests.
Can the farm facilities accommodate the kitchen and service requirements of your wedding?
There have to be sufficient suitable bathroom facilities for your guests.
Will loud music affect or annoy the neighbours and / or animals?
Is there a barn or a similar building in which you can have your reception (even if it is as a Plan B option in case of bad weather)? If not, you might need to consider erecting a marquee.
Whether you want animals to be present in the background or not, you will need to inform the farmer so that he or she can ensure that they put them in the correct grazing field on the day.
Arrive at your wedding venue on a tractor, horse carriage, horse back or on foot.
Attire and Accessories
A farm wedding allows a very classic, feminine, chic look and feel without being overly formal. This means that wedding gowns can be very pretty, but brides can steer clear of very large skirts and formal heels. Grooms and groomsmen will look great in open-necked shirts with waistcoats instead of jackets, or in lighter coloured day suits. For an even more casual look, don denim, cotton and leather instead. Bridesmaids and flower girls will look really sweet in short denim dungaree dresses and sun hats.
Your bouquet should be a loose arrangement of wild flowers. Otherwise, replace it with fun alternatives, such as a basket of freshly picked stems, a wire basket of eggs, an arrangement of straw, and so on. Brides may even omit the bouquet all together and simply walk down the aisle with a farm animal, such as a gentle sheep or a sweet calf.
It is important to choose comfortable shoes, as you will likely be walking on soft ground, particularly while having your wedding photographs are taken. Wellington boots come in a range of designs and styles, and can be turned into quite a style feature underneath your elegant clothes.
Décor
Create a romantic feature out of your dance floor, perhaps concealing it beneath an old oak tree or next to a water hole or stream. Use enchanting lighting to set the scene, perhaps using candles and lanterns. Centrepieces for the tables could be baskets of fresh fruit and vegetables, freshly baked farm breads or a collection of homemade preserves.
If you are able to have your wedding outdoors, setting the tables in one of the fields or under the trees is bound to create the perfect scene for your friends and family to celebrate your special day. Be sure to provide plenty of shelter from the sun using large umbrellas. Also, make knee rugs available for the cooler evening hours.
You can also incorporate the following into your farm wedding décor:
Wine barrels
Hay bales
Aluminium crockery
Plenty of wild flowers
Old fruit crates
Vintage features (such as teapots, birdcages and antique, mismatched tables and chairs)
Photo Credit: www.southboundbride.com