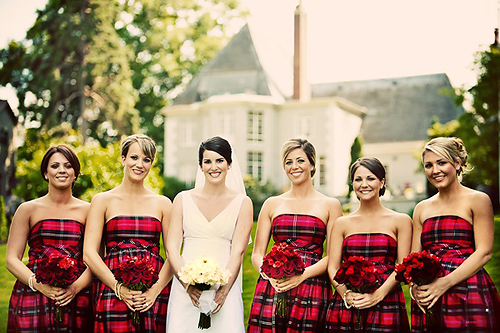 Now we know what you're thinking: I'm not Scottish, page on by. That, however, would be a big mistake: Whether you have Scottish blood flowing through your veins or not, a Scottish themed wedding is guaranteed to be a jolly affair of Lochness proportions.
Now the true Scottish wedding is usually a simple yet festive gathering of family and an occasion that's steeped in tradition. From the piper announcing the bride's arrival and the Celtic music as wedding march, to the oat biscuits crumbled over the bride's head for good luck, as she enters her new home.
Venue is key. Scotland is famous for its magical castles situated on the slopes of grassy hills and tucked away in idyllic valleys. If you do manage to find a medieval venue, stunning! Otherwise keep your eyes peeled for a venue that has a castle-like feel to it, like a wine-cellar, or a blank canvas that can be transformed into a fairytale venue.
To get the party started at both the ceremony and the reception, you're going to need bagpipes, played by a trained bagpipest that won't miss notes and have guests shielding their ears with bread rolls. Traditional sword dancers are also very much a must for a Scottish wedding, as well as some good ol' highland dancing.
For the outfits, tartan is your go-to fabric. While tradition dictates that groom and grooms men should be dressed in kilts, your better half might not be too keen on this concept. Rather opt for tartan shirts, bow-ties or braces or even shorts instead of a skirt. To really shake things up, dress your bridesmaids in kilts, long socks and cute little military jackets and the flower girl in a simple tartan dress. It's also tradition to sew a tiny horse shoe into the hem of the bride's dress as a token of good luck.
Instead of plain gold wedding bands, have your rings engraved with Celtic knot-designs or your family crest. It's also a Scottish tradition for the groom to present the bride with an engraved teaspoon at the wedding as a promise that he'll never let her go hungry. And if you really want to get into the Scot frame of mind, have a Scottish relative read a passage in Gaellic.
The tradition of "cake pulls" is an interesting one that is so special, it really shouldn't just be reserved simply for Scottish occasions. It starts with the bride and groom collecting a number of silver charms during their engagement period, each representing some sort of good fortune. These charms are then attached to separate ribbons and embedded and hidden in the icing, with the ribbons hanging down the sides of the cake. When it comes to the cutting of the cake, the bridesmaids, grooms men and family members step up and each take hold of a ribbon which they them pull to reveal their charm – the good fortune wished upon them by the happy couple.
On the buffet table, be sure to introduce guests to Scottish traditionals like haggis, neeps & tatties (turnip and potato), pheasant and blood pudding. And of course, don't forget to have plenty of Scotch, whisky, Hot Toddy, brandy and good wine at hand to fuel the celebrations.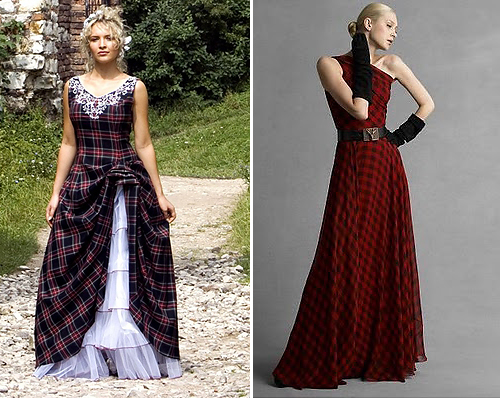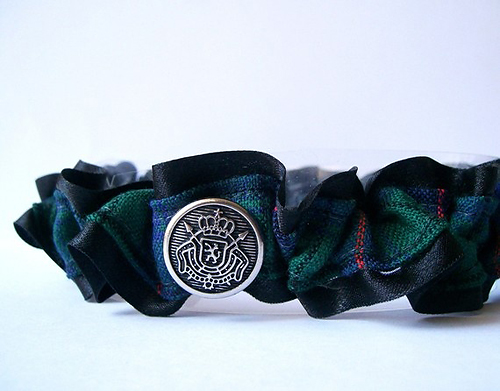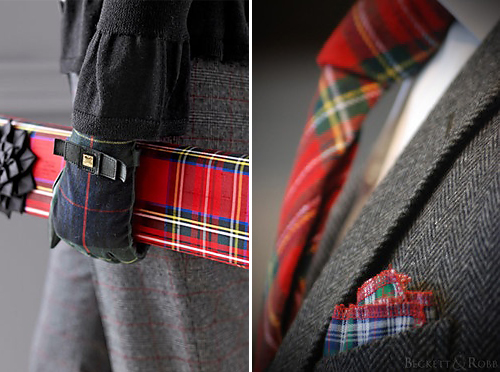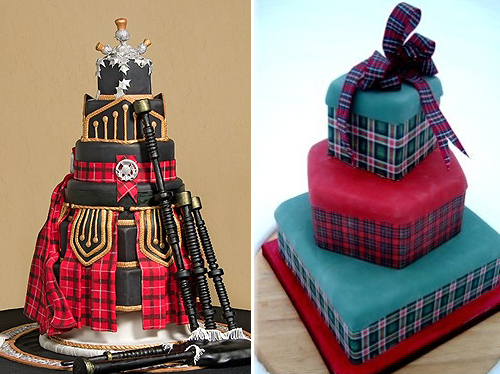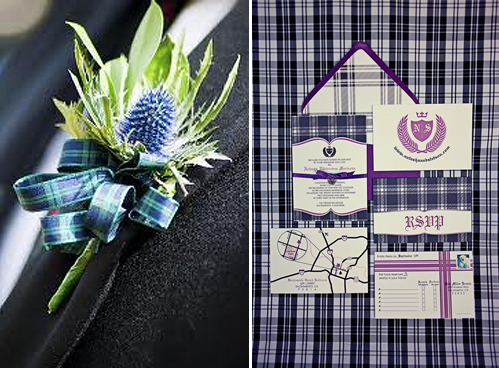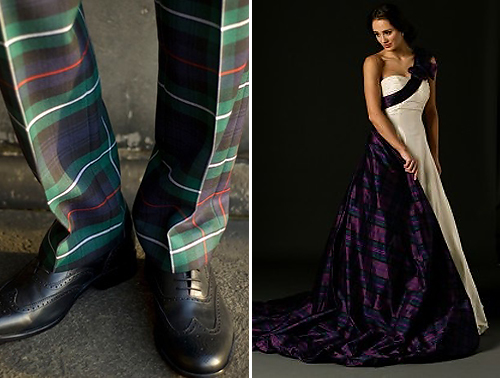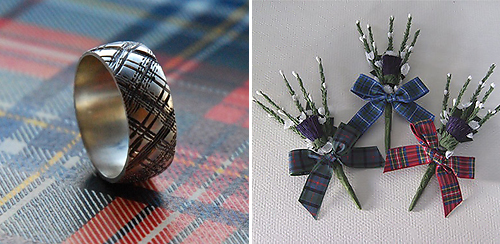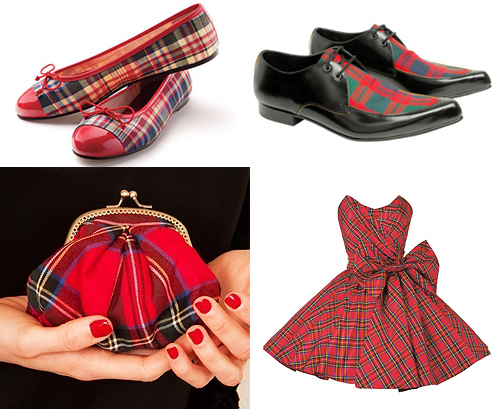 For more ideas on a Scottish Wedding Theme or to check out the original photos displayed above and their credits, make sure to check out our Scottish Wedding Theme Pinterest Board!