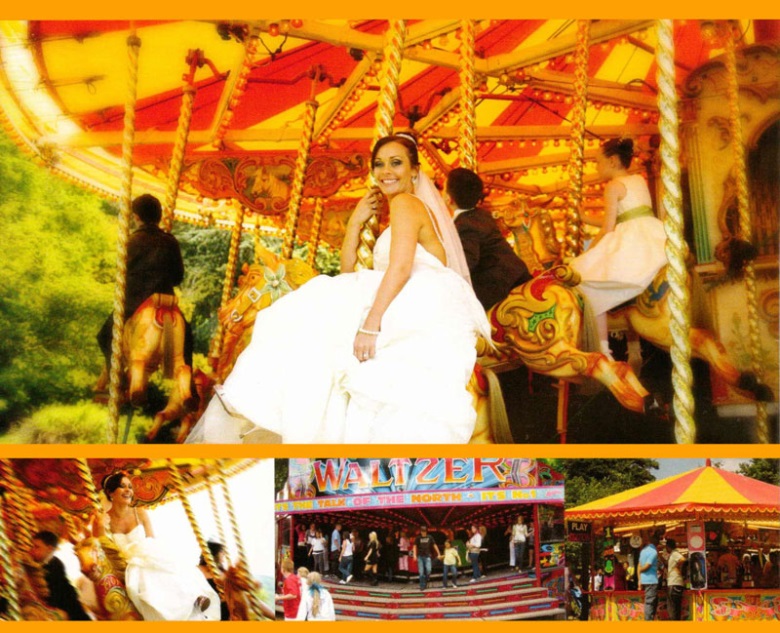 Wedding themes can be fun or fabulous, grand or playful. A funfair themed wedding is certainly very playful, with a hint of whimsical charm; happy memories from childhood family excursions. Funfairs are universal, and effectively lure your guests into a fantasy of excitement and laughter.
Invitations
The first taste that your guests get of your wedding theme will be on your wedding invitations, so use this as an opportunity to be creative. If you would prefer more conservative invites, simply use bright colours and cards cut in the shape of funfair rides, such as carousels, the big wheel or a rollercoaster. If you are willing to be a little more adventurous, attach your invitation to a bag of candyfloss, a box of ready-to-eat popcorn or a little teddy bear 'prize', or print it in the form of authentic funfair ride tickets. Otherwise, print them onto party hats, which will create that festive feeling and encourage your wedding guests to get into the exuberant mood of your event.
Attire
Funfairs do not have a specific dress code, but your bridal attire should be child-like, fun and quirky – perhaps reflecting the era in which you frequented fairs and what you would have worn during that particular time. Alternatively, you can have a dress-up wedding in which you and your entourage (and perhaps even your guests) can dress up like funfair performers like clowns, magicians and fortune tellers. If you, as the bridal couple, would prefer to be more traditional, simply have bright, fun accessories to spruce up your look. These may include your fascinator or veil, which could include feathers and streamers, your bouquet, in which you may replace flowers with helium-filled balloons, or your jewellery.
Décor
Your funfair-themed décor will be based on lots of bright colours, flashing neon lights and tinny background music. Then, try to incorporate common elements, such as balloons, stuffed toys, streamers, and so on in and around your venue to add the finishing touches.
Consider using rollercoaster tickets as place name settings, for example, or arrangements of colourful pastel-coloured candy floss as fun centrepieces.
Add an entirely novel dimension to your wedding décor by including games for your guests, like bobbing for apples, fishing with magnets, target practice, and so on. A genuine candy floss machine would be great fun and is an alternative to providing a formal dessert.
Food and Beverages
Funfairs are all about junk food with plenty of sugar and colourants. Consider the following items for your wedding menu:
Hotdogs
Boerewors rolls (or corn dogs for a more American version)
Hot chips and dip
Candy floss
Popcorn
Ice cream
Entertainment
In addition to the games and activities that are so often popular features of funfairs, consider including things like:
A fortune teller
A photo booth for really great memories
A House of Horrors tour
Games to play for prizes
Photo Credit: www.northwestfunfairs.co.uk