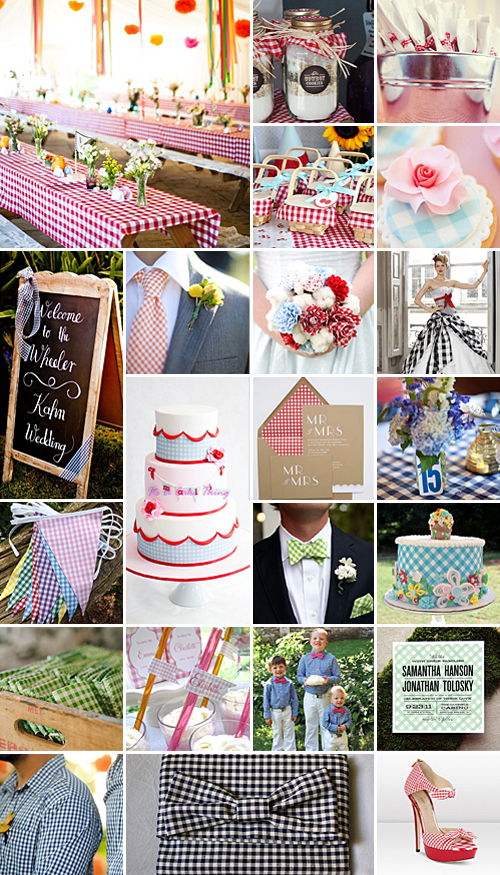 Ready to get your picnic face on? Gingham has been around since before any of us had our first mock teddy bears picnic in the backyard, and quite frankly it seems to come and go with the picnic seasons. What we really love about this simple pattern is how it adds a sense of joy and light-heartedness to any moment or setting, which makes it all the more ideal for a morning or spring wedding.
Gingham is the perfect addition to an already rustic style wedding, such as a barn, farm, forest or picnic wedding, as it introduces a sense of homeliness into the overall look and feel. Elements that work well with gingham include unpolished wooden picnic tables, hay bales, black boards, vintage crates, lace and rusty metals to name but a few.
You might also have heard that the hottest colour scheme this season is no colour scheme at all. This means choosing elements that match in other ways, i.e. shape, era, character or, in the case of gingham, pattern. So instead of opting only for red or green gingham, feel free to go all out with every colour of the rainbow – the gingham pattern will tie it all together beautifully.
Here are a few more gingham ideas to put a smile on your farm girl face:
Add touches of gingham to the groom's men outfits, such as bow-ties or pocket squares. Alternatively, go all out with gingham shirts and braces – an unusual yet smoking hot trend this season.
Incorporate gingham fabric into your bridesmaid dresses, whether it be a simple sash or an all-out gingham farm girl dress with boots.
Keep an eye out for gingham washi tape to decorate your wedding invitations, straws, stationery and gift bags with.
Add even more picnic happiness to the day with gingham-lined picnic baskets, table cloths, napkins and bunting.
For more Gingham wedding ideas, original photos above and their credits, please check out our Gingham Weddings Pinterest Board!