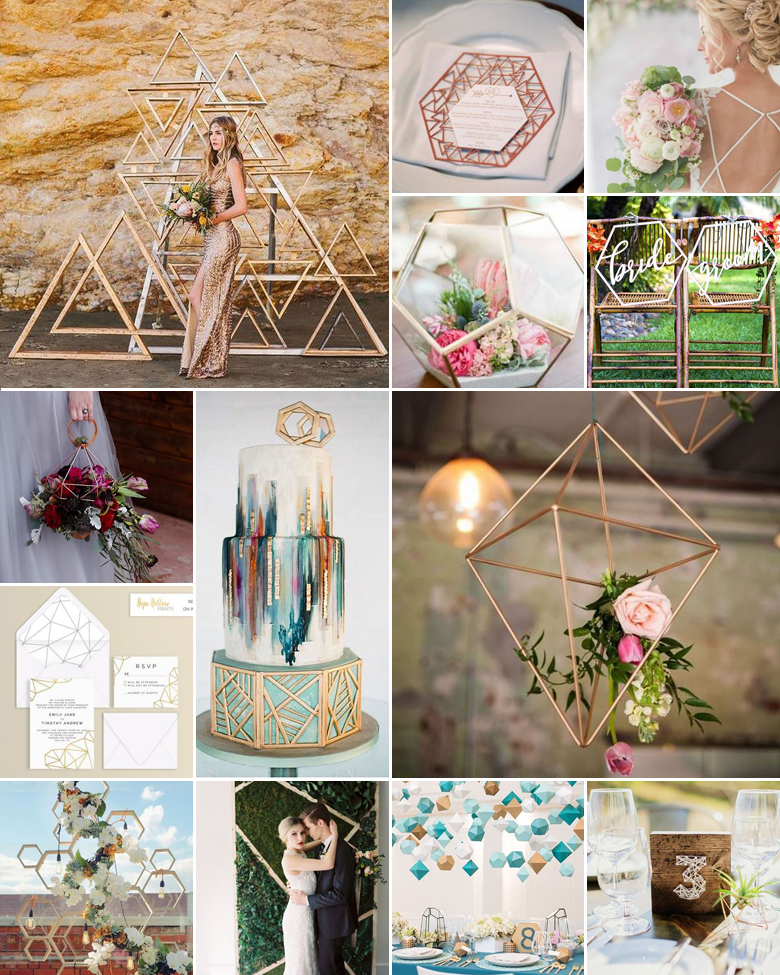 Perhaps you're a little OCD, or maybe you've just fallen head-over-heels for shapes – either way, a geometric theme is right up your alley. And oh so trendy at the moment! The trick to pulling off a geometric-inspired wedding is to throw all the rule books out the window, and to be brave in everything that you do and choose.
There are numerous ways to skin this cat (figuratively spoken, of course):
Metallic geometric shapes add a touch of contemporary style to any celebration – hang them from the ceiling or place them on your guest tables, surrounded by flowers.
Opt for a cake that's decorated with geometric print.
Break the mould and dress your bridesmaids in geometric print gowns.
Paper geometric shapes add new texture to your theme, and can be strung from the trees or used as a backdrop in the photo booth.
Decorate the walls with large geometric vinyl stickers and projections (if the venue doesn't allow stickers).
Incorporate geometric shapes into your wedding stationery designs.
Opt for geometric shaped plates and glassware, just for an extra touch of contemporary fun.
Complete your ensemble with striking geometric inspired jewellery and accessories.
Geometric Items Available
The requested RSS feed cannot be loaded at this time. This XML document is invalid, likely due to invalid characters. XML error: Undeclared entity error at line 22, column 68
Original images and their credits available on Pinterest