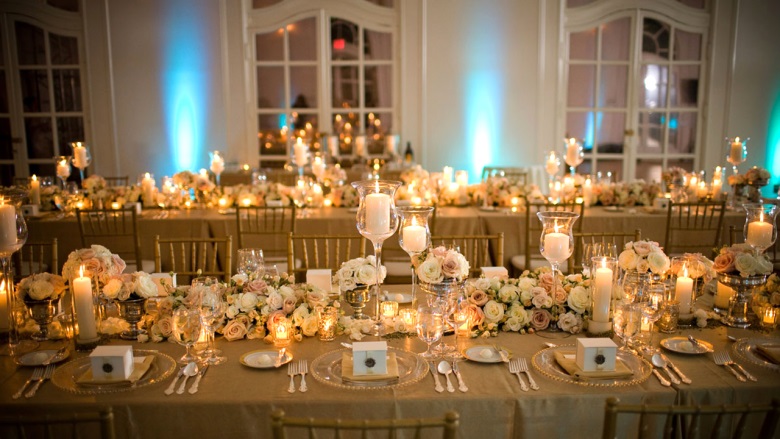 The colour gold has long been used to represent pizzazz, glamour and a certain degree of bling (depending on the shade and how much it is used). If used correctly, gold is also very elegant. By incorporating this very special hue as a theme colour for your wedding, you can create a dazzling feast for the eyes. Brides-to-be seeking a subtle, chic ambience can combine gold with taupe or white, while a very dramatic effect can be accomplished by adding black, chocolate brown or purple.
Invitations
Guests prefer to know what your theme colour is so that they can dress accordingly. Incorporate the colour into your invitations with gold paper, ribbon, glitter or beads. Alternatively, have some fun and attach your invite to gold-foiled, oversized coins, Oscar statues or gold medals (awarding the recipients for their special role in your life, perhaps).
Attire
The bridal gown, traditionally white, can look magnificent in ivory or champagne, which are lighter shades of gold. Emphasise the gold theme by having accessories in this glamorous shade, including a sash or belt, jewellery, shoes and your hair piece. Dust your bridal bouquet with gold glitter for a really effective touch.
The bridesmaids' outfits have room to be more dramatic and bold. Don these girls in gold dresses, but tone it down by having a simple style (such as a sleeveless, knee-length dress with stylish gold heels). Alternatively, go for a black, white or taupe dress (depending on your complementary theme colour, of course) and accessorise this with gold trimmings.
Groomsmen and the groom will look great in black suits or tuxedos with gold waistcoats and cravats or ties. For a more relaxed or informal wedding, opt for stone-coloured suits instead.
Hair and Make-up
Spray-on gold dust can be applied to your wedding hairstyle. However, ensure that your stylist does this for you and that it is not completely overdone as it can easily look quite silly if it is. Alternatively, don a gold fascinator instead of a veil, or attach gold-dusted flowers to the top of a traditional veil.
Bronzer is the very fashionable alternative to rouge or blusher at the moment. As its name implies, this gives the skin a healthy, golden glow. Fake eyelashes are also very popular at the moment, and are available in different shades and with different effects. Opt for black lashes with gold glitter on them. This will also ensure fabulously dramatic close-up photographs.
Décor
In addition to gold-coloured basics, like table cloths and under-plates, you can incorporate this versatile colour in many other creative ways. Replace your floral centrepieces with gold statues, or bronze genie lamps (bearing effective "wish come true" references). Decorate your wedding venue with gold coins, medals, stars, and even brass instruments to carry the gold colour theme through.
Food and Beverages
While not every bridal couple carries their theme colour through to their food, this can be a fun and creative way to make your wedding day even more memorable. The following items or dishes can be added to your menu:
Champagne
Orange juice
Lemons
Bananas
Gold kiwi fruits
Pineapples
Gold leaf decorations
Gold Tequila
Hunter's Gold
Photo Credit: www.caterhire.ie