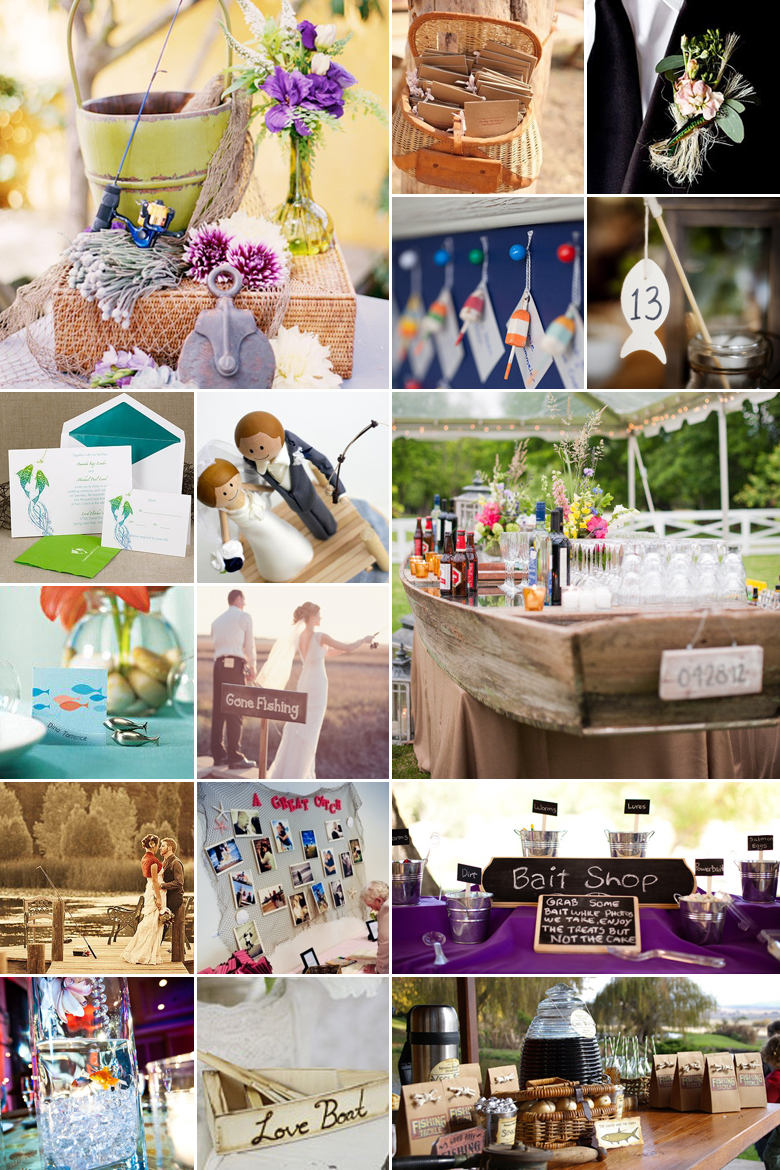 There may be plenty of fish in the sea, but the fact is: You've caught your perfect swimmer and this calls for celebration! This theme is simply perfect for the couple who loves lounging by the fishing waters and, even if seems a bit masculine, the theme can be interpreted in various whimsical and enchanting ways.
The overall look and feel of this theme primarily revolves around nature. Think natural earthy colours and elements such as raw wood, peeling paint, blue bits and bobs that are reminiscent of the fishing waters and various shades of lush green.
Cram the menu with a variety of fish- and seafood dishes as well as moreish sushi bites as your starter.
Make your very own fishy ice cubes for the welcome drinks. Simply cut little fish shapes out of orange peel and place in the ice tray before popping the cubes in the freezer.
Use fishbowls as part of the table décor, either as floral vases or complete with real goldfish swimming around inside.
Incorporate pieces of fishing net into the venue- and table decorations, as well as buoys and other nautical elements.
Decorate the venue with old fashioned lanterns that you'd generally associate with fishing boats and fairy lights that are reminiscent of fireflies.
Recycle an old rowing boat into a table plan by attaching pieces of string to the side panels and hanging the place cards from it.
Set up a fishing inspired photo booth with lifejackets, hats and mock fishing rods, and why not have your wedding pictures taken in a little rowboat out on the lake?
For a final quirky touch, fill the candy table with jelly sweets that resemble bait – for instance, worms, spiders and bugs.
Original images and their credits available on Pinterest