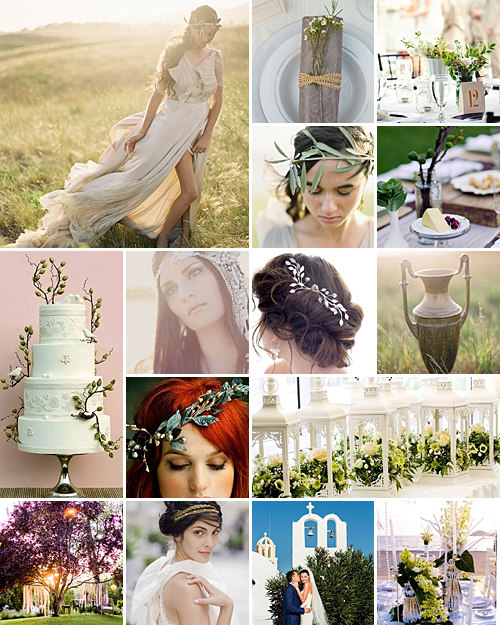 While some brides want to feel like a fairytale princess on their big day, others prefer the term "goddess". While a Grecian wedding theme is fresh, lovely, idyllic and romantic, it's really meant for the bride who not only wants to feel beautiful and pretty on her wedding day, but strong and confident like a true Greek goddess.
Inspired by the crystal blue waters of the Mediterranean and the crisp white curves of the characteristic Greek architecture, the colour scheme for a Grecian themed wedding can be described as rather refreshing. Alternatively you could opt for a more historical Grecian approach which calls for a white and olive colour scheme with golden accents alla Julius Caesar himself. Once you've decided on the colour scheme, it's time to focus on the details…
Braid your hair along the sides of your head, pin it up with the rest of your hair and adorn it with gold detail like a proper Grecian princess.
Name your tables according to the Greek alphabet or Greek gods and goddesses.
Adorn everything from tables to hairstyles and gazebos with dainty olive branches and also try to incorporate the olive leaf design into your stationery and jewellery.
Instead of expensive crockery, serve each course on cheap plates which guests can smash once he's done.
Look around for an all-white wedding venue and with a crystal blue swimming pool and white pillars, all of which is reminiscent of the Greek Islands. Alternatively, drape your venue walls in white fabric and use blue or golden lighting to set the scene.
Decorate the venue and tables with white marble-like statues, pillars and vases of varying shapes and sizes.
Gold detail and accents are a must for a Greek wedding. t also for your table decorations such as fine glassware with gold rims and delicate gold cutlery.
This of course also goes for your jewellery. Choose simple yet striking gold pieces and don't forget the characteristic Greek upper-arm bracelet.
When choosing your wedding gown, opt for a simple yet flowing gown of a soft fabric such as chiffon or get in touch with your inner Greek goddess and wear a one-shoulder dress.
Consider serving Mediterranean style dishes such as tapas, olive bruschetta, kebabs and fresh salads, and baklava for dessert.
Original images and their credits available on Pinterest