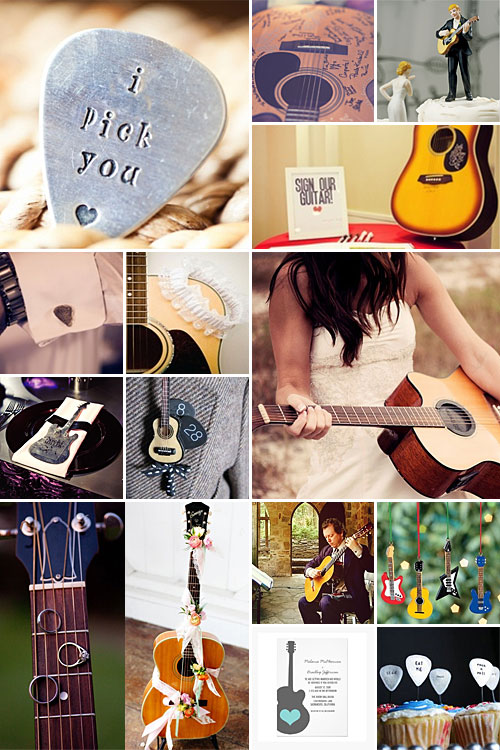 He was the cute band dude that all the girls were drooling over; you were the groupie shouting his name and singing along to the song that he wrote, especially for you. We can all agree that there are few things more soothing and romantic than the gentle strum of a guitar and we can't think of a better way to set the scene for the most special day of your life. Here are some melodic ideas to set the tune for your wedding day:
Guitar music is obviously a must, whether you hire an acoustic player for the pre-drinks or have hubby serenade you at the reception.
Take the guitar along on the couple's photo shoot and find unique ways in which to incorporate it into the wedding photo poses.
Have your names and wedding date engraved on special metallic or wooden guitar picks which you can frame and hang on the wall in your new home or attach to two individual necklace chains.
Picks can also be used for decorative purposes, for instance as guest name tags, place settings, part of the stationery elements and so forth.
Opt for rock 'n roll inspired stationery designs and dress the grooms men like real bandsmen from your favourite music era.
Instead of a guest book, let your privileged guests write their words of wisdom on a guitar or THE guitar that he first serenaded you with.
Other elements that can be used to complement the guitar theme include sheets of music (for stationery and confetti), old recycled LPs and leather, if you're going for a rocker vibe.
 Original images and their credits available on Pinterest