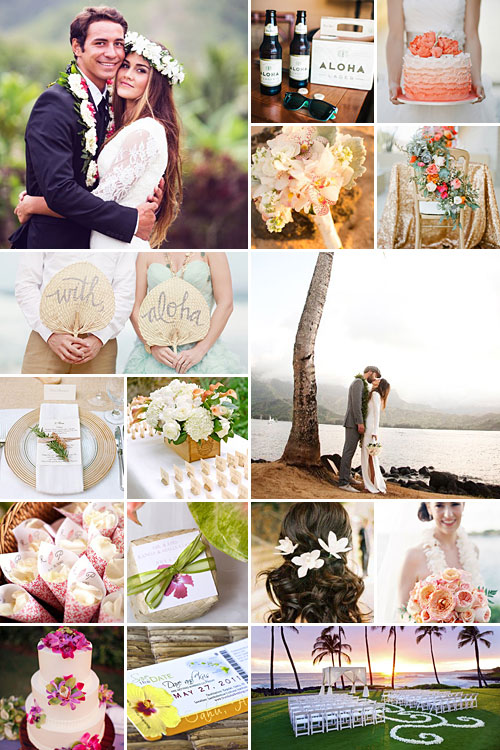 Aloha! A Hawaiian Luau is perfect if you want a relaxed, less formal wedding. And you don't have to be on a tropical island to do this wedding theme!
Dress some children in hula outfits and let them greet your guests with leis that they can wear around their necks. Think white beaches, blue waters and bright colours. Hibiscus, Orchids or Plumeria flowers are popular at Hawaiian weddings and will add brightness to your celebration. Use floating candles, pineapples, seashells or Tiki torches to decorate your venue. Use strands of flowers to decorate arches, alters, and isles at the ceremony.
Nice ideas for wedding favours include coconut candles, hand-held fans or flip-flops. Wedding attire includes linen pants or khakis and summer dresses. The bride can wear an informal wedding dress with a flower in her hair.
Popular dishes include fruit salads (especially pineapple, mangos, coconuts, kiwi, oranges) , fish, crab and vegetables. Wedding cakes can be beautifully decorated with flowers or shells. And don't forget about the fruit punch and cocktails! You can go wild when it comes to entertainment. Hula dancers, fire dancers and a Ukelele or acoustic guitar player are all great options.
Have a look at the gallery below to see more images as well as vintage Hawaiian postcards. Use them as inspiration for your wedding invitations.
What a romantic, unique wedding theme!
Original images and their credits available on Pinterest