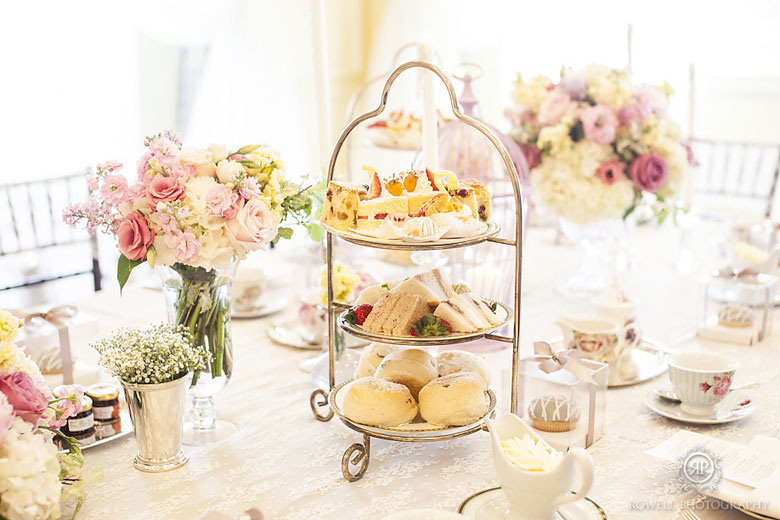 High Tea evokes images of grand Victorian get-togethers under the shade of century-old oak trees, savouring delicate petit fours and sipping on Earl Grey tea. Such a dignified, elegant affair may be exactly the theme to suit your wedding. This theme is well suited to couples that enjoy the finer things in life and love all things elegantly vintage.
Theme Colours and Prints
Because High Teas are generally elegant and formal, pastel colours and floral prints tend to work best. Introduce lace for a more feminine touch, which is important within the framework of this theme. Although traditionally a Victorian look and feel usually promotes smaller floral blooms on the textiles used, a modern alternative, which is very stylish, could be to use much larger, bolder flower prints instead.
Attire
The main look and feel of a High Tea wedding should encompass elegance and old-world charm. For you, this may mean Victorian dresses with wide-brimmed hats, or could simply mean a gorgeous floral number with elegant flat shoes. There really are no rules, but it is essential to capture the sense of timeless panache. If you prefer to wear a classic white gown, use your accessories (such as intricate brooches) and entourage's clothing to reinforce the theme.
Décor and Venue
A High Tea-themed wedding works beautifully outdoors, but silverware, intricate China crockery and crystal glasses remain paramount. Use lacy detail and pretty extras to create a quaint, stylish look.
You may have to mix and match the crockery, as genuine China is very expensive and, sometimes, difficult to find. Hunt around your local antique shops for some great second-hand goods. This eclectic approach will only reinforce your theme.
Your flowers and floral bouquets should be fairly simple and unobtrusive as there will be floral prints on your table cloths and, perhaps, napkins. Keep the arrangements low down (close to the table) and simple, and choose blooms that compliment the colour scheme of the busier textiles.
Food and Beverages
A High Tea is more substantial and formal than any other kind of tea party. Therefore, a buffet of sweet and savoury eats is essential. The following are always firm favourites, and will be easy to prepare and serve at your wedding:
Mini kebabs
Sweetcorn or pumpkin fritters
Salmon fishcakes
Mini sandwiches
Savoury muffins
Quiches
Cheese pastries
Petit fours
Mini tartlets
Fresh fruit
Being a tea party, you want to make a selection of delicious teas available. These should include bush tea, Earl Grey and at least one Ceylon tea.
High Teas were traditionally enjoyed while sitting at a table, instead of ambling around with finger food.
Guest Gifts
Treat your guests to tasteful little keepsakes to remind them of your High Tea-themed wedding.
Consider:
Individual petit fours
A teacup and matching saucer for every person
A delicious tea blend
Classy silver teaspoons
Vintage tins with fruit pastilles or tiny mints
Photo Credit: High Tea Weddings