This theme is the very definition of the girly phrase "aaww sweet!" While somewhat unconventional, the honeybee theme oozes charm and happiness like a dripping honeycomb. It goes without saying that flowers will play a large part in the décor of the day – we're talking flowers that look as if they were soaking up the sunshine on the meadow only moments ago – and preferably in shades of yellow and cream.
In terms of furniture, try to keep your elements as natural as possible – unfinished wooden picnic tables, burlap table cloths, hay bale seating – and play around with gold and yellow tones. The idea is to create a light and natural summery ambience where a honeybee would feel right at home.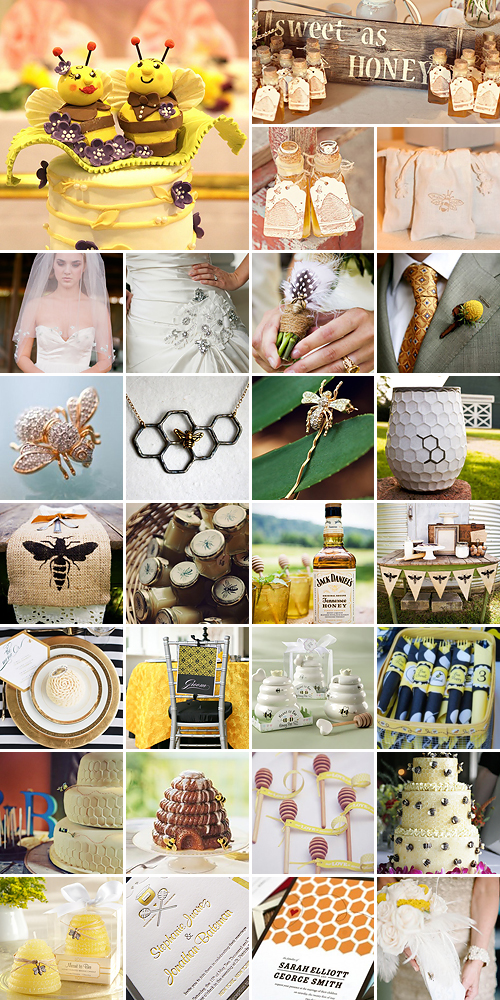 Make your own little honeybees using Styrofoam balls, paint and glitter. These can then be strung from the ceiling or suspended over the floral centre pieces.
Opt for a honey flavoured wedding cake that's shaped like a beehive and decorated with mini fondant honeybees.
Serve honey mead and golden beer (that resembles honey), and perch a little bee on the edge of each glass.
Use black or grey duct tape or custom made vinyl stickers to create a honeycomb pattern on the walls of the venue. This will create the illusion of being inside an actual beehive.
Dress your bridesmaids in lovely yellow honey-coloured dresses and round it off with a cute beehive hairstyle and honeybee hairclips.
Swap the traditional silverware for gold-plated cutlery and play around with bright and pretty yellow crockery.
Set up a honey and chocolate fondue station where guests can dip fresh fruit and treats in the gooey deliciousness.
Incorporate the honeybee emblem and honeycomb pattern into your wedding stationery design to really make the most of the theme.
Place a honey dipping stick in each guest's glass, with the name tag attached to it. This also makes the ideal guest favour, especially when it's accompanied by a small jar of honey.
Be sure to check out our Honeybee Wedding Theme Pinterest board as for more ideas and the original photos and their credits.